Visakhapatnam (also known as Vizag) is a beautiful city situated in between the mesmerising Eastern Ghats and the Bay of Bengal. Visakhapatnam is famous for its natural beauty and offers various natural attractions like Vizag beaches, hills, and many more. A lot of tourists from different states of India travel to Vizag (Andhra Pradesh) by Visakhapatnam bus. Vizag Buses are the major form of transportation to get to Vizag. If Goa seems far to you, then try visiting Vizag which is another tourist heaven in South India. Read on to know more about touring Vizag and Vizag bus services. 
How to reach Vizag?
Vizag has its airport and railway stations along with having a robust road transportation network. Buses are the best means of transportation to Vizag as they are easily available at frequent intervals throughout the day. You can easily find buses from other states to Vizag at different hours of the day. The presence of reliable operators in Vizag has also aided in the robust bus services available in the city. Bus services to Vizag are currently operating at their full capacity after being suspended for a long time due to the COVID scenario.
You can book online bus tickets to Vizag via redBus that is a trusted platform worldwide. Online bus booking is advised in the current scenario of the COVID pandemic as it will help you in practicing social distancing measures. Various operators on redBus will provide you Vizag buses at affordable rates. You can opt for APSRTC (Andhra Pradesh State Road Transport Corporation) buses that are state-government-owned and are safe. APSRTC serves various bus routes to Visakhapatnam throughout the day. Some of the top locations from where you can book APRTC Vizag buses on redBus are Vijayawada, Hyderabad, Guntur, Eluru, Rajahmundry, Anakapalle, etc. You can also see the expected time to cover any route to Vizag on redBus in advance. For example, the time taken to cover the distance from Vijayawada to Visakhapatnam by buses on redBus is approximately eight hours.
Why choose redBus?
redBus will provide you safety+ buses to Vizag that take extensive measures against the COVID pandemic. From deep cleaning of buses to temperature checking of staff members, redBus ensures it all. You can book APSRTC Vizag buses on redBus for further safety as the state government also focuses on providing safe bus services to passengers. You can choose to drop off at various locations in Vizag while bus booking on redBus like Birla Centre, Anakapalli, Gajuwaka, Dwarka Nagar, etc. 
Tourist attractions in Vizag
Vizag has many tourist attractions and has a perfect blend of natural and man-made attractions. You can start by visiting Borra Caves located in the Anantagiri area of Vizag. Situated 705 metres above sea level, Borra Caves are one of the deepest caves of India. The natural light coming from small holes in caves provides a vivid view of nature.
One can also visit the Submarine Museum located near the RK Beach in Vizag. This museum is made inside an actual submarine i.e., INS Kurusura that was one of India's earliest submarines. Besides various artefacts and paintings, this museum will also guide you on how life is inside a submarine. This museum is also visited by history buffs as it tells the story of various freedom fighters via its paintings, articles, etc.
One can also visit Kailasagiri, which is a small hill station in Visakhapatnam. This 360 feet high hill park lends a scenic view of Vizag beaches and landscapes scattered below. This place also experiences pilgrimage visitors due to the huge idols of Lord Shiva and Goddess Parvati. The adults can enjoy paragliding from this hilltop while the children can enjoy the amusement train ride while in Kailasagiri.
If you think the scenic views of Vizag are done, then visit Dolphin's Nose that is a rocky headland situated at a height of 174 metres. You can look at the beautiful view of the city and the Bay of Bengal from Dolphin's Nose. There is also a Dolphin Hill situated close to it but is owned by the armed forces. One can also visit the Indira Gandhi Zoological Park that is located 16 KM far from the city centre. Existing since 1977, this zoological park showcases more than 80 species of animals. You will also get to see various species of flora in this zoological park.
Vizag beaches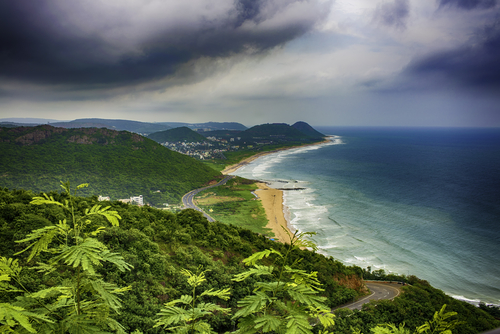 The most popular tourist attractions of Vizag are its beaches that are in abundance. You may ask that beach is in Visakhapatnam which district and will find in many of them. You can start by visiting Rishikonda Beach that is also popularised as the 'Jewel of the East Coast'. This beach has golden sand and crystal-clear water that attracts a lot of tourists.
If you are visiting Dolphin's Nose then you can try visiting the Yarada Beach that is situated close to it. People who are visiting the Submarine Museum can visit the RK (Ramakrishna) Beach that is located close to it. RK Beach is a quiet place to relax, unwind, and sunbathe.
One can also visit the Bheemili Beach in Vizag that is another famous beach in Vizag. The Bheemili Beach area also consists of an ancient fort (17th century) and a cemetery. History buffs who want to know more about the Dutch era can visit this beach in Vizag. Besides the aforementioned beaches, Vizag has many other beaches that are Lawson's Bay Beach, Sagar Nagar Beach, Gangavaram Beach, etc.
Conclusion
Vizag is the best place as it has something to offer to each type of tourist. You can pre-book your Vizag bus tickets via redBus and can visit this beautiful place. redBus will also allow you to book a return ticket from Vizag to your city. You can opt for APSRTConline buses to Vizag that are safe and have affordable fares. APSRTC is partnered with redBus and you can compare the timings and fare of various APSRTC buses on redBus before booking. Book your APSRTC bus tickets to Vizag now!