Come winters and everyone plans a vacation to a hill station, head down south or visit a beach to get some tan. How about taking an unconventional holiday that will offer unique attractions? Explore the unexplored and have the chance to witness some beautiful flora and fauna. This winter, travel junkies must have Assam on their bucket list. For all those who thought that Assam only has tea estates and lush green forests that are not all that Assam has to offer. Assam lakes are a sight to behold in the winters.
The right time for sightseeing in Assam is the winters. The weather is cool and one can have a perfect picnic with the beautiful lakes in the backdrop. The months from October to March are ideally the best time to visit since the weather is perfect for sightseeing and one can also visit the renowned Haflong Lake and go boating. Assam houses many pristine lakes with mesmerizing views and is surrounded by tiny villages. Escape the hustle-bustle of city life and find peace among nature. Travel to this hidden gem in the northeast part of India and enjoy nature at its best. 
Assam is a state that is well connected to almost all the major cities. ASTC buses ply to and from all the towns and cities in Assam. One can book the bus services on ASTC online or download the ASTC app for a hassle-free experience. If one is looking at travelling by flight, fly to the city of Guwahati and board an ASTC bus to the towns and places one wishes to visit.
Places to visit: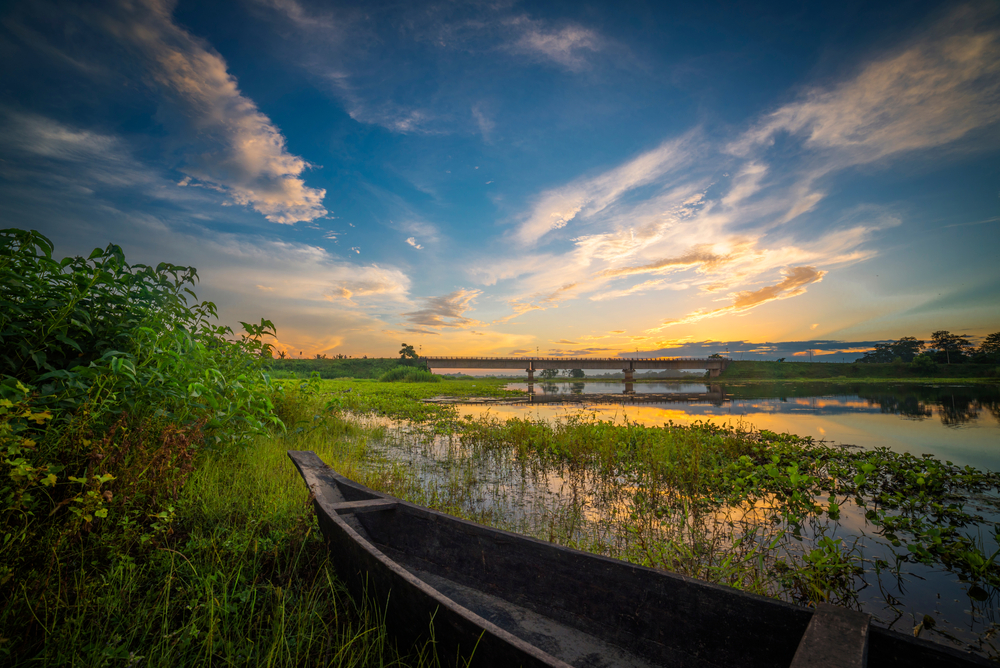 Haflong Lake
Without a doubt, Haflong Lake is the most popular tourist destination in Assam owing to its clear blue water and the many varieties of migratory birds that surround the lake. One can go boating or fishing as well and there are many other activities to take up while visiting the lake. The lake is very clean and is maintained well by the forest department. Apart from visiting the lake, one can also go trekking on the hill and spot some exotic birds. Adventure lovers can also try their hand at paragliding which is very popular among tourists.
Getting there:
For tourists wanting to visit the Haflong Lake, buses are available from Guwahati and the journey to Haflong is 7 hours long and the distance is 350 kms.
Chandubi Lake:
Located at the foothills of Garo is the famous Chandubi Lake that suddenly formed after an earthquake and emerged as a natural lake. Surrounded by greenery and lush forests, this lake is a must-visit.
Getting there:
If one is planning to visit Chandubi lake, it is situated an hour away from Guwahati and one can board an ASTC bus to reach the lake.
Dolu Lake:
Dolu Lake is the farthest lake from the city of Guwahati but is worth visiting. During sunrise and sunset, one can spot many photographers trying to get the perfect shot. Spend a day at Dolu Lake and enjoy a picnic with family and friends. The view of the beautiful lake with mountains in the background is soothing to the eyes. The sound of the water gushing is very calming to the ears. There is no entry fee and hence makes it a popular tourist spot.
Getting there:
Dolu Lake is situated in the town of Silchar which is a 9 hours journey from Guwahati. ASTC Buses play to and fro between Guwahati and Silchar.
Dighalipukhuri Lake:
During the Ahom dynasty, Dighalipukhuri, a man-made lake, was used as a naval yard. Following the collapse of the Ahom Empire, the lake was thrown open to the public for sightseeing. It is surrounded by vegetation and mesmerizing gardens. Located in the central part of the city of Guwahati, the lake is very popular among the tourists and one can spot many visitors enjoying a picnic with their family. It also has an amusement park which is quite a hit among the children.
Getting there:
Situated at a distance of just a kilometer from the Guwahati Railway station, this lake is easily accessible if one is in the city.
Son Beel Lake:
One of the beautiful Assam lakes that is a must-visit tourist destination is Son Beel, one of the largest lakes in the state. It is situated in Karimganj, approximately 318 kms from Guwahati. Apart from being one of the largest lakes in the state, it is the second-largest wetland in Asia which serves its purpose as land for rice cultivation. Around the lake are Hizol trees that offer a splendid view of the seasonal lake. Being one of the most popular tourist spots in Karimganj, one must visit this lake for some spectacular views and star gazing at night. 
Getting there:
Son Beel is situated in the town of Karimganj which is approximately 329 kms from Guwahati. One can book a bus or cab and reach the destination.
Dipor Bil Lake:
Another famous lake is the Dipor Bil Lake which is a freshwater lake and has 12 villages around it. This beautiful lake is superabundant in flora and fauna and is home to many varieties of water lilies and hyacinth. Many fishermen from the neighbouring villages come for fishing to this lake. The lake is situated in the south-west part of Guwahati. It has also received the status of a wetland by the Ramsar site and many villagers depend on it for their livelihood. One can be lucky enough to spot many varieties of birds including migratory birds.
Getting there:
One can board a local bus from the Guwahati Railway station and the distance is approximately 15 kms which is a short ride.
There are many beautiful Assam lakes that house an exquisite variety of birds, plantations and animals. It remains one of the less explored regions but has a lot to offer to the tourists. While planning a vacation next, think of Assam and all the natural and lush terrain it is bestowed with. Travelling to the tourist places in Assam is easy since buses and taxis are available from Guwahati keeping it well connected.
With amazing weather and serene views, a visit to Assam lakes will give one a lifetime of memories. With life being so monotonous and stressful, everyone needs a break to sit back and relax for a while. So if one is looking at travelling to a place that is away from the chaotic city life, find peace in the lap of nature and spend time with loved ones at these beautiful Assam lakes without any disturbances from the regular life. It is also a great destination for planning a honeymoon and there are many attractive packages to choose from. Become one with nature and soak in positivity. Happy travelling and happy exploring! 
You may like to read: Sundarbans – the Pride of West Bengal