This pandemic has taken a toll on everyone's physical and mental well-being. People have been feeling trapped in their houses. All the festivals have been very lukewarm and excitement in people has fizzled out. With the reopening of several tourist places, this is the perfect opportunity to step out, with all safety measures in place, of course. To get in touch with one's spiritual self, Ayodhya is a must-visit and has lots to offer. Take an Ayodhya trip to get in touch with the divine energy and explore the sacred land that was once home to Lord Ram.
The place Ayodhya is synonymous with Ram Janmabhoomi but it is much more than that. There are many lesser-known historical and religious places that tourists can explore. Places that are soaked in rich heritage and have intriguing stories. Each place has a unique significance in mythology and it is amazing how some of these places are still preserved and maintained for people to visit and experience closely.
Here is an Ayodhya travel guide and a list of places to visit in Ayodhya.
Ram Janmabhoomi:
Ayodhya trip is incomplete with a visit to Ram janmabhoomi. The place is considered to be the motherland of the most worshipped Hindu god, Shri Ram and holds utmost importance for Hindu devotees. The Ayodhya Ram Mandir Bhoomi Pujan took place on 5th August 2020 by Mr. Narendra Modi, our Prime Minister and was a huge affair with thousands of people attending it. The intended plan and design looks magnificent and once ready will be one of the biggest temples in the country.
Hanuman Garhi:
Another attraction on the Ayodhya trip is Hanuman Garhi, which is a temple devoted to Lord Hanuman and is a significant temple in Ayodhya. It is believed that before one visits the Ram temple, it is important to visit the Hanuman temple and then proceed. The temple has a stairway of 76 steps and is situated on a hill. The temple has several idols of Lord Hanuman and his mother Anjani. The temple attracts many visitors during Hanuman Jayanti, Lord Hanuman's birthday. There is a 6ft idol of Hanuman and people adorn the idol with many flowers and fruits to pay their respects.
Kanak Bhawan:
Situated to the northeast of the Ram Janmabhoomi, the Kanak Bhawan is one of the most magnificent and famous temples in Ayodhya. According to the Ramayana, this palace was a wedding gift to Mata Sita after her marriage to Lord Ram by his stepmother, Kaikeyi. The garbhagriha has idols of Lord Rama and Mata Sita.
Gulab Bari:
This 18th-century tomb is located in Vaidehi Nagar area of district Faizabad. Gulab Bari is originally a tomb of Nawab Shuja-ud-Daula, the Nawab of Faizabad or also known as Oudh/Awadh. This Nawab styled structure is also a home of many different species of roses and has a lush green garden along with beautiful fountains. It is currently preserved as National heritage and is included in the Ancient Monuments and Archaeological Sites and Remains Act.
Choti Chawni:
Choti Chawni or Valmiki Bhavan is a palace intricately carved out of white marble. This magnificent structure has 34 heritage caves, 12 Buddhist caves that are to the south. At the centre, there are 17 Hindu caves and towards the north are 5 Jain caves. The Kailash temple in the palace adds to its beauty and sereneness. The palace is a sight to watch and is definitely a must-visit.
Nageshwarnath Temple:
The Nageshwarnath temple is situated in Ram ki Paidi. The temple was erected by Kush, the son of Lord Ram. According to a legend, Kush was bathing in the Saryu River where he lost an armlet which was later discovered by a Nag-Kanya who fell in love with him. Since he was an ardent devotee of Lord Shiva, Kush built this temple for her. Devotees come in huge numbers during Shivratri and the Shiva baraat is a highlight during the festival. The vibrant and colourful interiors of the temple are eye-catching.
Treta Ke Thakur:
Treta Ke Thakur is located in Ayodhya at Naya Ghat and comprises several idols of Ram, Lakshman, Sita, Hanuman, Bharat, and Sugreev. The beautiful idols have been carved from an entire block of black sandstone. Treta Ke Thakur is said to have been constructed over 300 years ago by King Kullu. According to the scriptures, the temple is at the same place where Lord Rama had performed the famous Ashwamedh Yagna. The most interesting fact about the temple is that the doors of the temple are thrown open for the common people only once a year on Ekadashi during Kartik month. The temple is decorated and festivities are celebrated.
Sita Ki Rasoi:
The Sita Rasoi is to the north-west side of Ram Janmabhoomi and it is believed that Mata Sita used to cook in the kitchen herself. It is located close to Ram Janmabhoomi and is now a sacred temple where the ancient vessels are displayed. Mata Sita is Annapurna or goddess of food. To date, the tradition of feeding the poor is kept alive and free food is distributed here. On the other side are richly adorned idols of Ram-Sita, Lakshman-Urmila, Bharat-Mandavi and Shatrughan-Srutakirti.
Getting to Ayodhya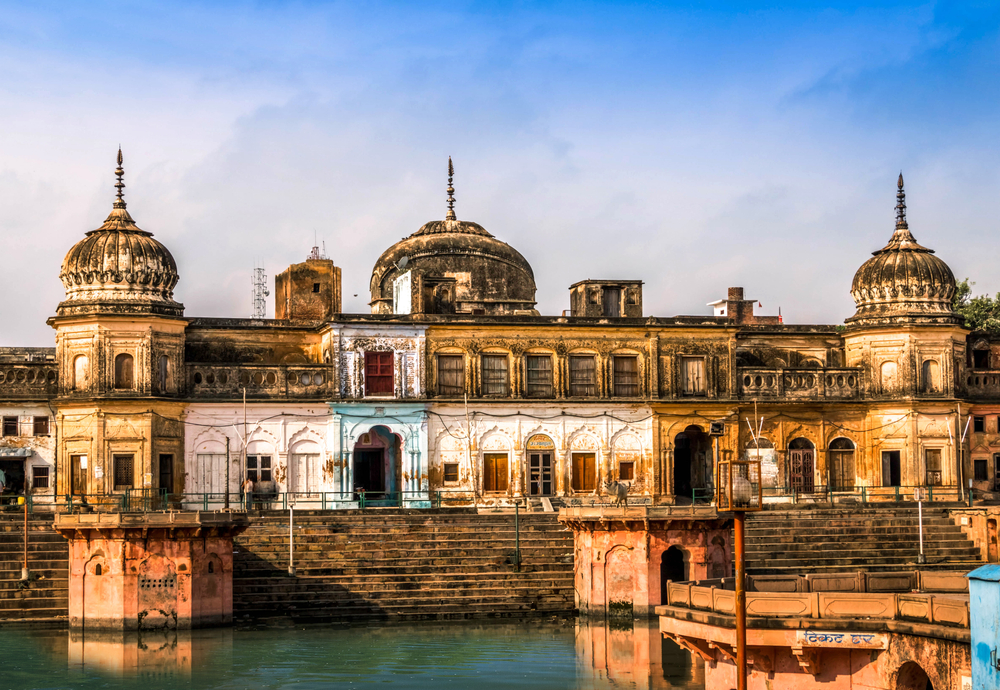 In Ayodhya, almost all the temples and places of significance are located in close proximity to each other. Most of the places are hardly 1km away from the centre of the city and can be accessed easily by walk or autos. However, here's a detailed guide on how to reach Ayodhya.
By air: The nearest airport to Ayodhya is Lucknow International Airport and is situated 152 km away. Tourists can take a flight from any major city to Lucknow and then reach Ayodhya by taxi or bus.
By train: Faizabad and Ayodhya are the main railway stations in the district and are connected to almost all the major cities. Ayodhya is 135 km from Lucknow by train and Faizabad is 128 km.
By bus: UPSRTC (Uttar Pradesh State Road Transport Corporation) provides bus services 24 hours a day and is a convenient and easy way to reach Ayodhya. Ayodhya is 172 km away from the capital city of Lucknow by road and buses are available at all times of the day making it a hassle-free way to commute. UPSRTC bus tickets can be bought online in advance on redBus.
Ayodhya is a place rich with culture and heritage just waiting to be explored. Happy travelling! 
You may like to read: A Must Experience Tribal Tour in Gujarat