Andhra Pradesh is known as the Rice Bowl of India for being the largest rice-producing state. Apart from its agricultural history, the state is also rich in its heritage and traditions. Right from Kuchipudi, the traditional Andhra Pradesh dance form to the famous Kalamkari painting, this state is blessed with numerous forms of art. The best part is that the people here have preserved these art forms and have also passed them on to the next generations. Here is a sneak peek into a few of the traditional art forms of Andhra Pradesh. 
Popular Art Forms in Andhra Pradesh
The rich heritage of Andhra Pradesh is visible in the classical as well as folk art forms such as puppet shows, stick dance, etc. A majority of these art forms are unique to the state as well as to the remote areas where they belong. A cultural tour of this state will be an enlightening experience for anyone. Though there are several such forms of art from this part of India, mentioning some of the most prominent ones.
Kuchipudi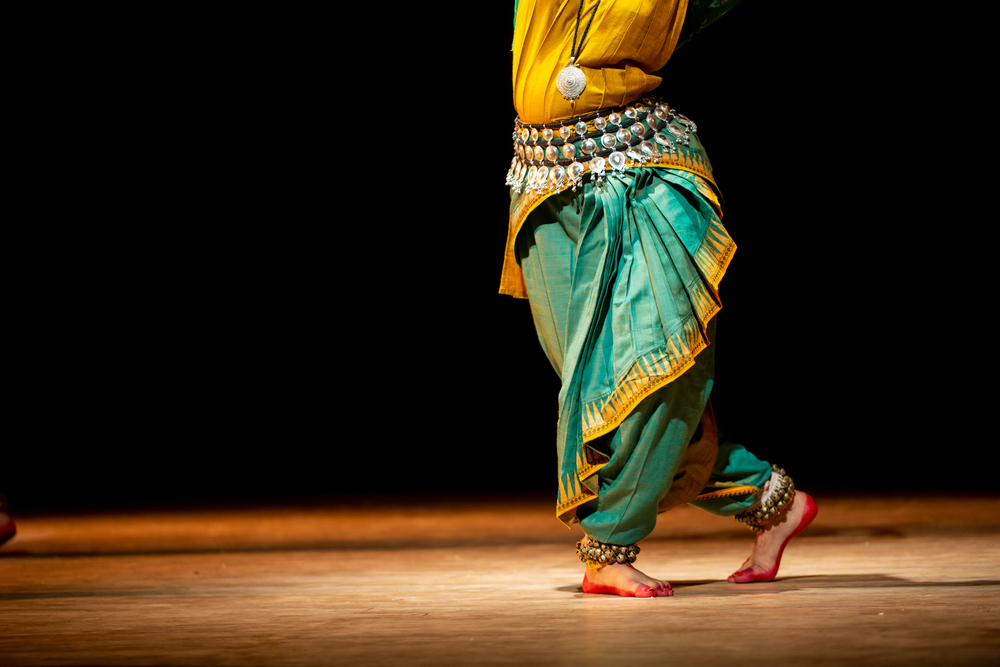 Kuchipudi is the famous classical dance form of Andhra Pradesh. It has its origin in Kuchelapuri village or Kuchipudi village near Vijayawada. Dancers perform their graceful movements and rhythmic footwork skilfully on a metallic plate. The theme of the dance often derives from mythological characters such as Lord Krishna, his wife Staybhama, etc. 
Places to visit: The best place to see this dance form is its origin village. There is a dedicated dance college for this dance. 
How to reach: Just one APSRTC bus (only non-AC), but several private buses (AC or non-AC), are available from Hyderabad to Vijayawada Avanigadda bus depot. 
Buta Bommalu
Thinking about the Buttabomma song? Well, it means Basket Doll! It's a type of puppet dance performed in Tanuku, in West East Godavari districts as well as the eastern areas, using basket dolls made of thin strips of bamboo. The doll will be large and hollow with a size of 8 ft in height and a 3 ft radius. The dancer stays inside the hollow space and is tied to the doll and performs to the rhythm of the drums. Depending upon the festival and occasion, the doll will be decorated in colourful costumes and themes.
Places to visit to experience it: Tanuku is the best place to see this dance, especially during Navratri, Janmashtami, or other festivals.
How to reach: One may reach Tanuku directly from Vijayawada by bus in 2-4 hrs.
Kalamkari painting
Among the various Andhra Pradesh art forms, Kalamkari painting is the most famous one. The unique feature of this art is that it uses natural dyes and painting tools to do the art. Initially, people used it to depict mythological stories. Later, it emerged as one of the prominent fabric designs. 
Places to visit: One can witness the authentic kalamkari painting in Machilipatnam and Srikalahasti.
How to reach: Direct buses are available to Srikalahasti from Hyderabad, Bangalore, Ongole, Vijayawada, Guntur, etc. Machilipatnam buses are available from Bangalore, Nellore, Tirupati, Hyderabad, Chittoor, etc. 
Kolattam
Kolattam is a prominent folk dance of Andhra Pradesh which means 'Stick Dance', performed during festivals. The dancers use sticks on each hand and form two circles on the dance floor. Dancers in each circle move in the opposite direction with the rhythm and hit their sticks with the other dancers on the other circle. This dance is not unique to the state but is a famous one. It has different names according to the states. 
Places to visit: Kolattam is not confined to a particular region. Instead, it can be seen in any village of Andhra Pradesh during the festival season.
How to reach: Direct buses are available to all prominent cities and villages in Andhra Pradesh from the neighbouring states.
Burra Katha
Burra Katha is a theatrical form of art that has dance, music, dialogues, jokes, etc included in it. The main theme of this art form is the devotion to God and is performed by 3-4 dancers and one narrator or storyteller. This dance form is famous during the Sankranti and Diwali festivals.
Places to visit: This dance form is prominent in the villages of Rayalaseema and other coastal districts of Andhra Pradesh. It is confined to the two festivals and the theatrical performances across the state. 
How to reach: APSRTC and private buses are available to various cities and villages of the state so that one can easily reach the venue according to the date of the performance. 
Veeranatyam
Veeranatyam is a tribute to Lord Shiva, especially during Shivaratri. This is otherwise known as the Dance of Anger, Dance of Brave, etc. It is believed that the descendants of Veerabhadra, an incarnation of Lord Shiva, started this dance form. The dance is performed in various phases with each phase turning out to be an act of dare with pierced tongue, ankles, etc.
Places to visit: One can find Veeranatyam in the villages of Anantapur, Kurnool, Khammam, Warangal etc. 
How to reach: APSRTC buses operate various trips to all of these districts and their different villages and towns. Tickets for these buses are easily available online. 
Kondapalli Toys
Kondapalli toys are famous wooden toys, painted in vibrant colours. These dolls are especially used during the Navratri festival and are made and displayed in various themes and characters from Hindu Mythology. These toys are light weighted and traditionally painted in natural vegetable dyes. 
Places to visit: Kondapalli in Krishna district is the best place to see the wonderful making of these dolls. 
How to reach: Direct Kondapalli buses are available from Khammam, Donkarayi, Chinturu, Sileru, etc. 
At a time when many of the traditional art forms of the country are vanishing, these above-mentioned art and crafts are well preserved by the villagers of Andhra Pradesh. As many of these places are reachable by bus, they would make a wonderful option for a solo trip or a group trip. With the online tickets, planning the tour is simple. Start planning now to see the range of the heritage and culture of this state.