If you are looking for a perfect travel destination that has the essence of the traditional Indian culture, Rajasthan should be on top of your list. It offers the perfect rural-urban blend for tourists from across the world. There are plenty of factors that make Rajasthan one of the best travel destinations in India. The ancient royal forts, the Great India Desert (Thar Desert) and lip-smacking Rajasthani food add to create a unique travel experience for visitors. With so much to do, it is really difficult to plan a Rajasthan itinerary for 7 days. However, we've brought you a travel guide if you're planning to spend a week in Rajasthan.
Why must you visit Rajasthan in India?
Rajasthan is the largest state in India that expands over an area of 342,239 KM square. Being the biggest state in that nation, Rajasthan has a plethora of scenic landscapes for tourists from across the globe. Rajasthan has a rich history that boasts about the Rajputana empire. It is the homeland of brave warriors like Maharana Pratap, Prithviraj Chauhan, Maharaja Suraj Mal and the likes who are celebrated for their valour and battle acumen.
Rajasthan has the most amazing tourist attractions in India including Hawa Mahal, Lake Pichola, Amer Fort, Ranthambore National Park, etc. The tour plan for Rajasthan should be done carefully as it has a lot to offer. Let's take a quick look into how you can plan the right Rajasthan itinerary for 7 days.
How to plan your Rajasthan trip itinerary for a week?
Most people can't afford to spend over a week on their travel so your tour plan for Rajasthan should be done meticulously. You need to prioritise the popular tourist attractions and the cities that have a higher number of touristy places. You should plan your travel to different cities in the right order and must visit the neighbouring cities first rather than hopping to a faraway place.
The order for the places you should visit also depends on where you are currently located. One can easily book an RSRTC bus online using redBus to save time and money while travelling. It is also recommended to book your hotels/homestays in advance so that you don't have to pay any surcharge on the same.
The perfect tour plan for Rajasthan
Let's take a deep dive into the perfect Rajasthan itinerary for 7 days.
Jaisalmer (Day 1 & 2)
The city of Jaisalmer is situated in the western part of Rajasthan and is close to the Great Indian Desert also known as the Thar Desert. Reaching Jaisalmer can be a bit challenging given its geographical location. However, one can easily book a train or flight to Jaisalmer from Delhi to conveniently reach the city. Alternatively, you can even book a train or flight to a neighbouring city and then book a bus to Jaisalmer using redBus. 
The most interesting places to visit in Jaisalmer include the Jaisalmer Fort, Gadisar Lake, Sonar Quila, Khaba Fort, Thar Desert, Desert National Park, Indo-Pak border. When in Jaisalmer, tourists also like to indulge in desert safaris, parasailing at Kanoi and desert camping.
Jodhpur (Day 3)
Ideally, you will need around 3 days to cover everything interesting that Jaisalmer has to offer. After you have visited the popular tourist places in Jaisalmer, you should head for Jodhpur on the 3rd day. If possible, try to get an early start so that you can reach the city in time and discover places in the city in the daytime itself. It will take around 5 hours to reach Jodhpur from Jaisalmer if you are travelling by bus or car. If you want to save time and money on your commute, you can book bus tickets using redBus and choose from multiple operators. 
Jodhpur, popularly known as the blue city of Rajasthan, is home to a 15th Century UNESCO site 'the Mehrangarh Fort' which is visible from almost all areas of the blue city. Built using the red sandstones, the Mehrangarh Fort is a timeless architectural marvel. After exploring the fort, you can easily head towards the nearby Jaswant Thada monument. When you head over to the old city, you can visit the Toorji ka Jhalra stepwell. Other popular places to visit in Jodhpur include the Umaid Bhawan Palace, Mandore Garden, Toorji ka Jhalra, Balsamand Lake, etc.
Udaipur (Day 4 & 5)
The next stop on your list should be the city of Udaipur. It's approximately 250 KM away from Jodhpur and can be easily reached by bus. While on your way to Udaipur, you can also visit the renowned Ranakpur Jain Temple. You must be aware of the dress code that you need to follow. Udaipur is also popularly known as the 'White City' or the 'City of Lakes'. Some scenic destinations in Udaipur include Lake Pichola, City Palace, Jaisamand Lake, Jagdish Temple, Vintage Car Museum, etc. One can easily book a bus to Udaipur from any neighbouring city in Rajasthan. 
Jaipur (Day 6 & 7)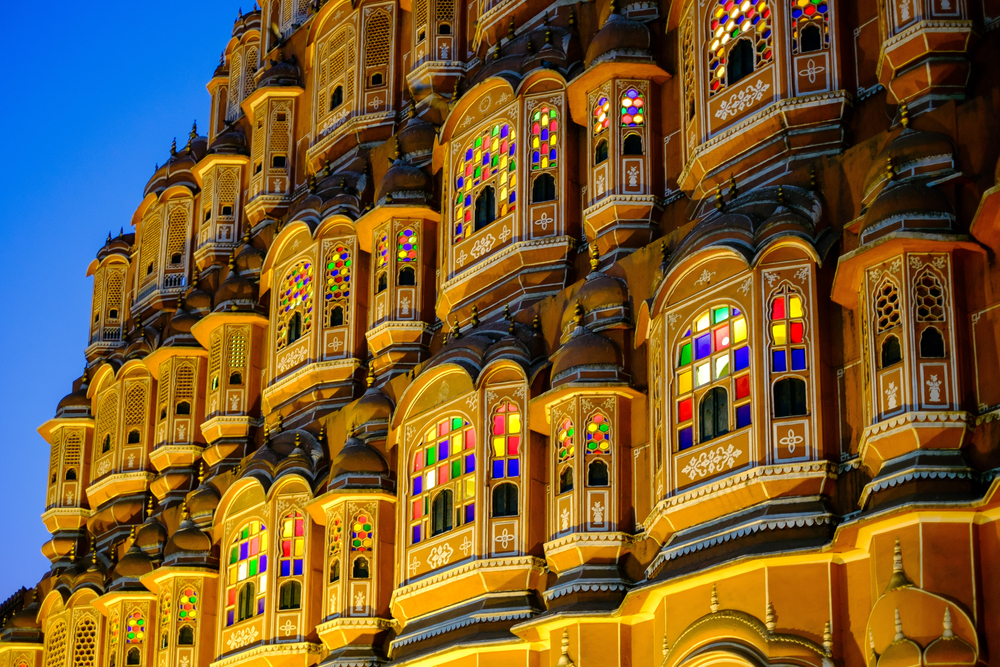 Your Rajasthan trip itinerary is incomplete without a visit to the capital city Jaipur. Jaipur is also popularly called the Pink City of Rajasthan and is the largest city in the state. Jaipur is approximately 7 hours away from Udaipur if you are taking the road transport. Some popular tourist attractions in Jaipur include Amer Fort, the Nahargarh Fort, Jal Mahal, Jantar Mantar, Hawa Mahal, etc. History enthusiasts can also visit the famous Albert Hall Museum and Jaipur Wax Museum in the city. One can easily book a bus online for Jaipur from any neighbouring city using redBus and save time and money.
Why choose redBus?
If you are planning for an affordable trip to Jaipur, you can save a lot of money by travelling to different cities by bus. redBus offers the best bus booking experience in India. It has partnered with the most reliable and punctual operators in India who believe in delivering an exceptional customer experience. The buses are equipped with all the necessary amenities required to make your journey safe and comfortable. You can even book the RSRTC buses using redBus to make your tour plan for Rajasthan. The best itinerary for Rajasthan must include redBus for your travels. 
You may like to read: Wandering through the Fields of Punjab