The Tirupati Balaji Temple is well-known among the country's and South India's important religious sites. The beaches, natural scenery, and temples created in South India all reflect the region's magnificence. All of the temples here are popular, but visiting Tirupati Balaji is of a higher value. This temple has been dedicated to Lord Vishnu.
Every day, between 50 thousand and one lakh devotees visit Tirupati Balaji to pay their respects to Venkateshwara, with the number of tourists reaching 5 lakh on important occasions.
If you visit Tirupati for the first time, you will have to keep some things in mind. While you visit Tirupati temple, you can do many other things in Tirupati. There are several other temples near Tirupati apart from the Tirupati Balaji temple. You can complete an APSRTC bus booking and visit all the nearby temples. While visiting Tirupati, it is highly recommended that you visit all the other nearby temples.
Before you visit the Tirupati temple, there are several things that you should know. Some of these things are discussed below in detail.
The History of Tirupati Temple
It would be best if you did your research before visiting Tirupati. Before you plan your visit
to Tirupati Balaji temple, you must have a little bit of background of the temple. The temple
has a special place in the hearts of the believers and followers of Hinduism. The temple is
world famous for its glory.
It is believed that every Hindu should visit this temple at least once in their life. It is also popularly referred to as the 'Temple of the Seven Hills'.
The temple is at the height of 853 feet from the Sumradi base. Several people make charity here,
which has made it one of the country's richest temples. People here donate money In
millions every year.
The making of the temple began in 300 AD. Several kings played several roles in making the temple what it is today. The Maratha general, Raghoji Bhosle, checked the final layout of the temple. Bhuloka Vaikuntham, which means Vishnu's residence on earth, is another Tirupati Balaji temple.
Visiting Tirupati Temple – When to Plan
The temple can be visited throughout the year. However, the best time to visit Tirupati is in January and February. The summers are hot and humid, and the temperature can go as high as 42 degrees; therefore, late winters are the perfect time to visit the Tirupati temple. The temple is open throughout the day. The free Darshan, known as Sarvadarshanam, takes a lot of time and it is difficult to predict the time it would take. Because the temple is not overcrowded, darshan can be completed in 4 to 5 hours. However, if there is a massive line, you may have to wait up to 18 hours. You must register if you want to take VIP Darshan online and pay Rs 300; else, you will not be able to participate in VIP Darshan. VIP Darshan allows you to see Tirupati in about 3 to 4 hours.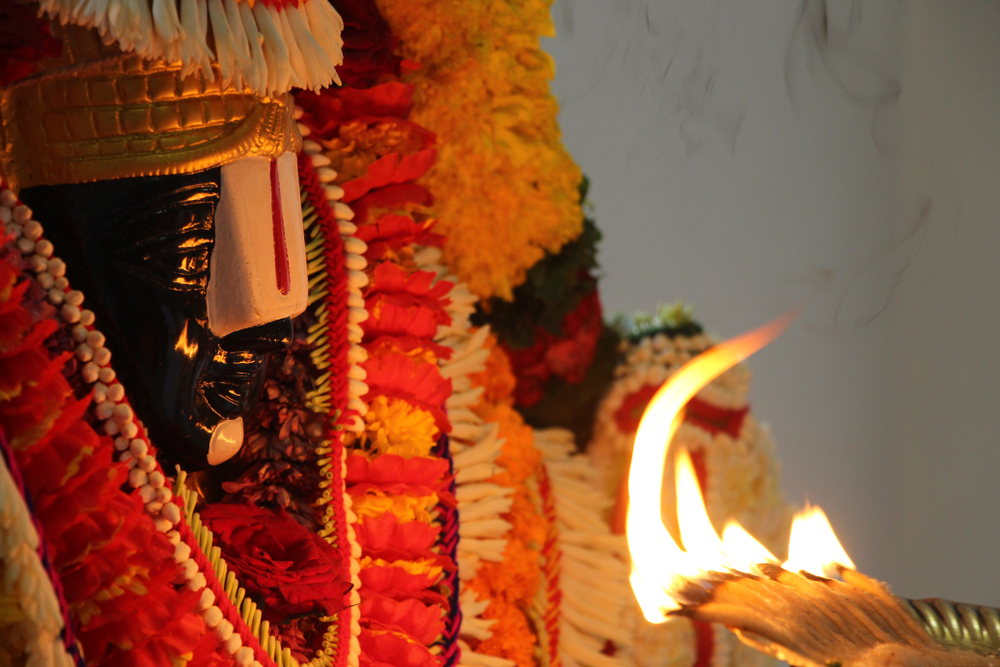 Hair Donation
A lot of people donate their hair if they visit the Tirupati temple. This tradition has been named Mokku and has been followed for hundreds of years now. According to research, about 20,000 people give away their hair every year while visiting Tirupati. The rationale for this offering, according to the Hindu religion, is so that Lord Venkateshwara might return Kubera for the loan he took from him. Lord Venkateshwara, it is said, offers you ten times more as compared to the price of hair we donate. The devotees come and donate their hair at their will.
The Laddus at Tirupati
The Tirupati Balaji temple is also quite famous for its laddus. The laddu is prepared in a specialised kitchen that is known as Potu. Every laddu weighs exactly 175 grams. However, these laddus can be made and sold only inside the temple and are not available elsewhere. About 1.5 lakh laddus are prepared every day for the devotees.
Ways to Reach Tirupati
There are several ways in which you can reach Tirupati. Some of the ways are:
By air: You can take a flight to Renigunta airport and then take a cab to Tirupati. Tirupati is about 15 kilometres away from the airport. The flights are available from all the metro cities.
By road: Several tourists also travel to Tirupati via road. You can take a cab and visit Tirupati. A better option would be to complete an APSRTC bus booking and then travel to Tirupati by bus. Buses ply every 20 minutes, and they are the best option for visiting Tirupati.
There are no railway stations at Tirumala if you want to travel to Tirupati by train. It would help if you first travelled to Tirupati train station for this. Tirumala is 26 kilometres from Tirupati station. There is also a five-platform escalator.
Temples to Explore While Visiting Tirupati
There are several temples to visit near Tirupati. If you are travelling to Tirupati, you must make sure that you visit all of these nearby temples. Some of the most popular temples near Tirupati are:
Kalyana Venkateswara Temple: This is one of the most famous temples in southern India. The temple is located 12 kilometres away from Tirupati, and you can take a bus to travel to this temple.
Kapila Theertham: Visiting this temple is a good idea if you are in Tirupati. This temple is dedicated to Lord Shiva and is situated at a cave entrance. There is a beautiful waterfall, and the temple is located on its base.
Several other temples are located in Tirupati. You can visit all of these temples and make the best out of your trip.
There are several things that you must keep in mind while visiting Tirupati. These things will make your stay at Tirupati much more delightful, and you will see the Tirupati Balaji temple without any hassle. Tirupati is known for its beautiful temples, and you should visit all of these temples during your visit.
You may like to read: Top 2022 Tourist Destinations in India