ABOUT KARKALA
Situated in the Udupi district of Karnataka, Karkala is also called Karla and is famous for its enchanting Jain heritage from the times of the Maurya and Vijaynagar empire. Several Hindu temples glorify the city along with lake Rama Samudra. Located at the foothills of the Western Ghats, you can feast your eyes on numerous places to visit in and around Karkala, like Hiriangadi, Attur, Moodabidri and Venoor.
The distance between Karkala from Mangalore is about 50 km, and the city is accessible through every mode of transport. The nearest railway station to the town is Indrali station in Udupi. In contrast, a bus is the most feasible mode of transportation. You can opt to reach Karkala effortlessly on a shoestring. So, hit the road to Karkala by booking your bus pass on redBus now!
Best Time to Visit Karkala
If pleasant, mild and breezy weather is what you are looking for during your journey to Karkala, plan your trip from September to March. However, the city's festivities could be best experienced in February. The city's colour enlightens and shines bright during the festivals of Mahashivratri and Mahamastakaabhiskeka.
Top Places to Visit in and Around Karkala
Karkala has a vibe with fantastic architecture, heritage and beautiful weather that can set your mood over the moon. The city's monuments, people and markets reflect the rich history. Hence, the following are some advised places you must explore in Karkala if you want to live in the true essence of the city:
1. Anekere Lake
It's a blissful spot where you can relive history, situated 5 minutes from the central city of Karkala. Anekere Lake was a man-made tank built in 1262 by Raj Pandyadeva to bathe the royal elephants. But, later, the purpose of the lake widened to supply potable drinking water. Today, the beautiful white lilies cherish the beauty of this adorable lake and make it an ideal picnic spot.
2. Attur Church
Popularly called St. Lawrence Shrine Basilica, Attur Church is a catholic church located at Attur, Karkala. It looks like a fairytale destination with magnificent architecture. The history of the Church is beautiful and well told by the intricate incarnations on the walls. Famous as a miracle church, it was built in 1839 at the foothills of Parpale Hills.
3. Statue of Bahubali
If you are a culture vulture, this should be your next pick to visit top places in and around Karkala. Bahubali, the son of Rishabhdeva- a Jain Tirthankar, was believed to meditate motionless for a year. He stood stiffly without moving his body, where many creepers grew around his legs. Hence, he attained omniscience. The place is impeccable for those who love cultural tales and believe in miracles. Thus, you can dive deep into the history at the Statue of Bahubali, located at the hilltop of Shravanabelagola.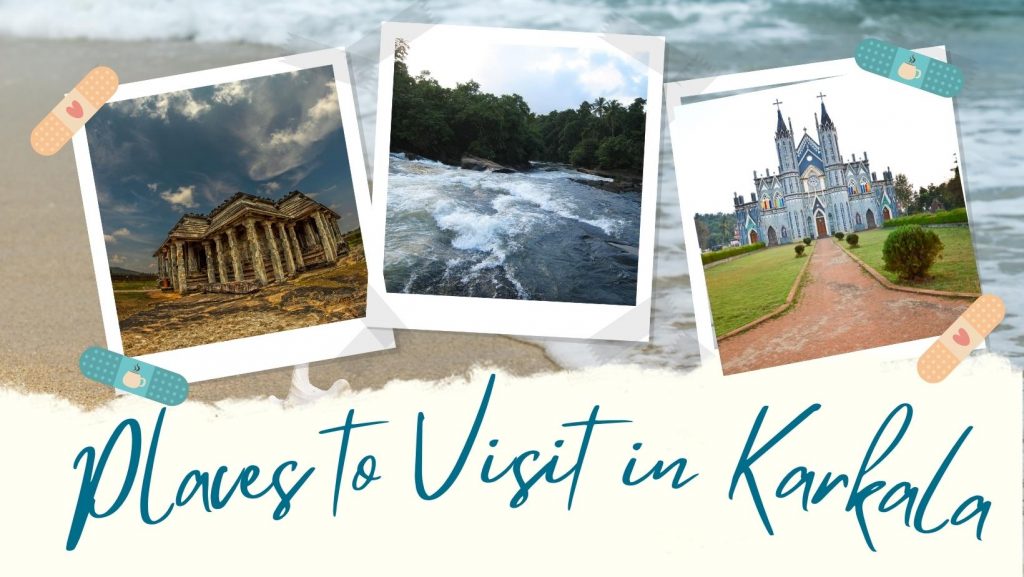 4. Varanga Kere Basadi
Situated at a distance of 22 km away from Karkala is Varanga Kere Basadi. It is another beautiful Jain Temple centred in the middle of a lake. Also known as Chaturmukha Basadi, it is a place housing four idols of Jain Tirthankars representing four different directions-North, South, East and West.
5. Ramasamudra Lake
Want to live the authentic Karkala? Well, this is the place for you. Ramasamudra Lake is the favourite picnic spot for locals and tourists and is representative of the diverse heritage of Karnataka and Karkala. The spirit of Southern India is truly enlivened here as the miraculous waters of this lake are said to have never drying healing properties. Veera Bhairava, the Jain Sect ruler, built this lake in the 14th century, which turns scenic during sunrises and sunsets. You can interact with the people and enjoy regional delicacies while spending time here.
6. Chaturmukha Basadi:
It is a Jain temple built in the 16th century, known for its four identical entrances and beautiful architecture and carvings.
7. Ananthapadmanabha Temple:
This temple is dedicated to Lord Vishnu and is known for its 14-foot-tall monolithic statue of Anantha Padmanabha. It is believed to be one of the oldest temples in the region.
8. St. Lawrence Church:
It is a beautiful church dedicated to St. Lawrence and is known for its stunning architecture and peaceful surroundings.
9. Moodabidri:
This is a nearby town located about 15 km from Karkala and is known for its 18 Jain temples, including the famous 1000-pillar temple.
10. Kere Basadi:
It is a Jain temple near Karkala Lake, known for its stunning architecture and beautiful surroundings.
11. Padutirupathi:
It is a famous pilgrimage site about 6 km from Karkala, known for its temple dedicated to Lord Venkataramana.
12. Panchakoteeswara Temple:
It is a famous temple dedicated to Lord Shiva, known for its beautiful carvings and stunning architecture.
Let's Live it Up Then
Karkala can easily mesmerize and enchant anyone. The place is filled with untold stories and undescribed adventures, making it an ideal destination to start your expedition. You can experience all the top places to visit in and around Karkala accessible and enliven the sense of history, culture, nature and celebration here!
Fascinated by the beauty of these top places to visit in and around Karkala? So, pack your bags and book your bus tickets to Karkala today on redBus! It gives you live tracking options, last-minute deals and amazing discounts on every journey. So, what are you waiting for? Start living it off the suitcase.
In conclusion, obtaining a bus pass from Belthangady to Karkala can provide a convenient and affordable way to travel between these two destinations in Karnataka with redBus Unreserved. With various options available, including daily and monthly passes, travellers can choose the option that best suits their needs and budget. By taking advantage of this transportation option, individuals can save up to 30% on bus tickets while reducing their carbon footprint. Overall, a bus pass is an excellent way to access the many attractions and activities that Karkala offers, making it a perfect choice for locals and visitors alike.
---