Khajjiar is a beautiful hill station located in Himachal Pradesh and near another famous hill station Dalhousie. The road distance from Dalhousie to Khajjiar is just 24 KM. Khajjiar is popularly known as the 'Mini Switzerland of India' because of its resemblance with Switzerland. A stone from here is situated outside the Swiss parliament to signify its resemblance with the country. A lot of tourists from various parts of India visit Khajjiar for its exquisite natural beauty. Besides natural attractions, there are also temples and parks in the town. Read on to know more about touring this mini Switzerland!
How to reach Khajjiar?
The nearest airport from Khajjiar is more than 100 kilometres far, so road transport is the popular means of transportation. The nearest train station is also located at a distance of around 118 kilometres.
Buses are the preferred means of transportation and are economical as compared to car rental services. You can find Khajjiar buses from various parts of Himachal Pradesh and other states. Various inter-state bus operators provide bus services from neighbouring states to the town. The bus services to Khajjiar are now operating at full capacity after being suspended for a long time due to the COVID scenario.
You can book online bus tickets to this lovely place Himanchal Pradesh via redBus, which is a reliable e-ticketing platform. redBus will provide you with safe buses to the town at affordable rates. redBus ensures that its bus operators follow various safety measures against the recent COVID pandemic.
You can book UTC (Uttarakhand Transport Corporation) buses from various locations to Khajjiar via redBus. UTC buses are owned by the state government and will provide you with a safe bus journey. Some of the popular bus routes serviced by redBus to Khajjiar are from Delhi, from Dalhousie, from Dharamshala, etc. UTC buses follow various safety measures on their buses like regular sanitisation of buses, temperature checks of staff members, etc. UTC buses also have affordable bus rates and will offer you a flexible journey.
Why choose redBus?
redBus can provide you with buses at different timings by the top-rated bus operators. redBus is the world's largest e-ticketing platform and will provide you genuine bus services to Khajjiar. You will not have to pay any middleman charges on redBus for booking bus tickets to Khajjiar. You can choose to drop off at various locations via redBus along with various types of bus tickets like sleeper tickets, seater tickets, etc. You can contact the redBus customer support executive anytime if you face any issues while booking Khajjiar bus tickets online.
Tourist attractions in Khajjiar
You can start by visiting the Kalatop Wildlife Sanctuary while in Khajjiar. Spread across 30.69 square kilometres, this sanctuary has a wide range of flora and fauna. You can see various types of animals in this sanctuary like the jackal, bear, leopard, wolf, etc. This sanctuary is open for tourists from 7 AM to 6 PM. You can also visit the nearby Dainkund Peak and the Golden Devi Temple.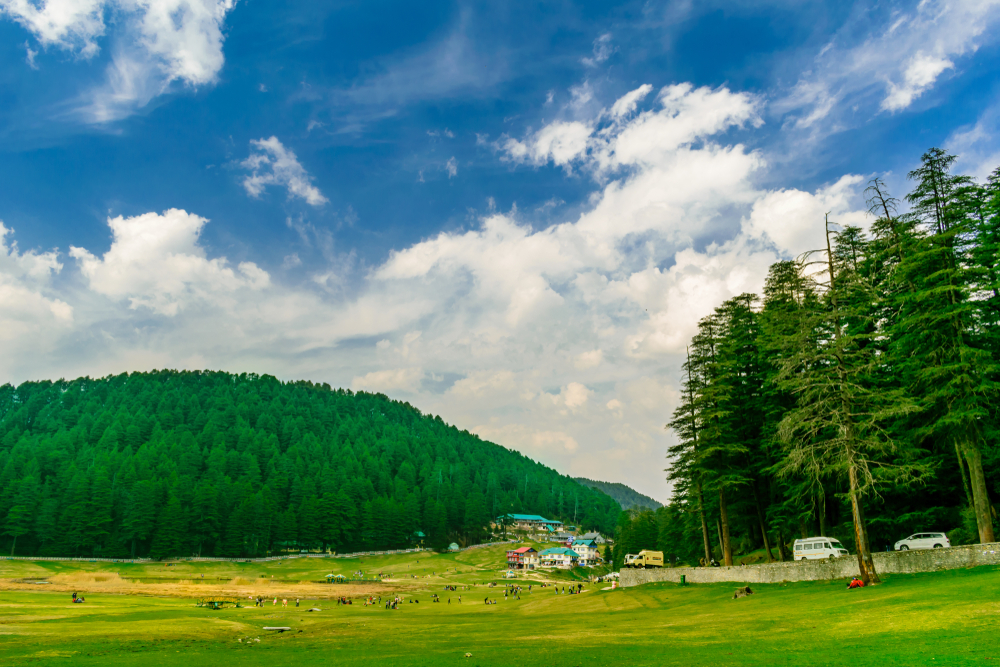 Khajjiar Lake is another famous natural attraction. Surrounded by the Deodar Forests and located 1920 metres above sea level, thisLake is a must-visit place. Here, an area of grass grows and floats in the water, which attracts a lot of tourists from all parts of India. Besides its scenic views, a lot of adventure activities can also be done while visiting Khajjiar Lake. Many activity providers will help you in doing paragliding, zorbing, horse riding, etc., near Khajjiar Lake. The mesmerising view of Mount Kailash from then Khajjiar Lake is also a treat to watch. However, one should visit the Lake on a sunny day for seeing Mount Kailash.
If you want to go trekking, you can head to the Dhauladar Range. Located close to Khajjiar Lake, the snow-covered peaks of the Dhauladar Range are a treat to watch. The best time to visit Dhauladar Range for trekking is from April to November. Many pilgrimage seekers also visit a Laxmi Narayan Temple located close to the Dhauladar range.
Many people visit the 'Panch Pandav Tree', which is known for its mythological importance. This tree is located within the Deodar Forest that surrounds Khajjiar Lake. According to the locals, the six shoots of this tree represent the mythological characters in Hinduism, namely Draupadi and the five Pandavas. One can also visit the Khajji Nag Temple, a famous temple dedicated to the lord of serpents. Constructed in the 12th century, this temple is made in a unique Mughal-Hindu architectural style. The Khajji Nag Temple is open from 6 AM to 8 PM for pilgrimage seekers.
Things to do in Khajjiar
Besides doing adventure activities like trekking, paragliding, horse riding, etc., in Khajjiar, you can also shop for souvenirs at various locations. Near the Khajjiar Lake is the Tibetan Handicrafts Centre consists of various shops that offer unique handicrafts and antiques. Golf players can visit the Nina Hole Golf Course for some game time.
HP State Handicrafts Centre is another great place in the town for shopping. The shops in this centre will offer you various handicrafts like carpets, jewellery, rugs, wall hangings, etc. You can also dine at various eateries located around this centre. Some of the famous local foods in Khajjiar are Tukdiya Bhat, Chha Gosht, Chana Madra, etc. There are abundant social amenities present in Khajjiar to facilitate the tourists.
In a nutshell
Khajjiar is one of the most visited hill stations in North India. You can book Khajjiar bus tickets online on redBus and can choose to drop them at various locations. redBus can help you in doing budget travel as it offers affordable bus services. You can contact the redBus customer support executive if you face any problems while booking Khajjiar bus tickets online. Book your Khajjiar bus tickets online now!
You may like to read: Goa seems far? Head to Vishakhapatnam