Life has been monotonous for the past year. People are stuck in their homes and are longing for adventure. The time has finally come for all the adrenaline junkies to pack their bags and rush to the haven of adventure sports- Bir Billing. This quaint village situated in the Kangra district of Himachal Pradesh is known for camping, trekking, mountain biking and most importantly, Paragliding.
Bir Billing is every Paraglider's dream. For beginners that wish to take a short paragliding trip of 10-15 minutes, it can cost up to INR 1500, for the more adventurous ones, an hour-long paragliding session can cost up to INR 5500. Paragliding courses that can go on for around 10 days are offered as well and priced around INR 32000. In Bir Billing, paragliding is the most popular activity to indulge in while visiting the place. This place is best enjoyed when visiting with a group of friends. There are many attractive deals available on camping and tents with luxury facilities as well. Many offer honeymoon packages and sightseeing tours.
How to Reach Bir Biling
Getting to Bir is possible by air, train and road. Kangra airport is the nearest airport to Bir. One can take a flight to Kangra and then reach Bir by road which is situated 67.8 km away. Since the Kangra Airport is not connected to the major cities, it is always a better idea to take a train to Pathankot and then book a cab or bus from there.
The distance from Pathankot to Bir is approximately 144 km and the journey takes about 3 and a half hours. If one is travelling from New Delhi, there are 8 buses travelling between Delhi and Bir every day. Tickets can be booked on the HRTC website after checking the timetable of the buses. HRTC buses are safe and are a good idea while travelling to the hills. The Himachal Pradesh Transport buses offer interstate bus services round the year and have great connectivity with cities like Shimla, Delhi, Manali, etc. 
Things to Do in Bir Billing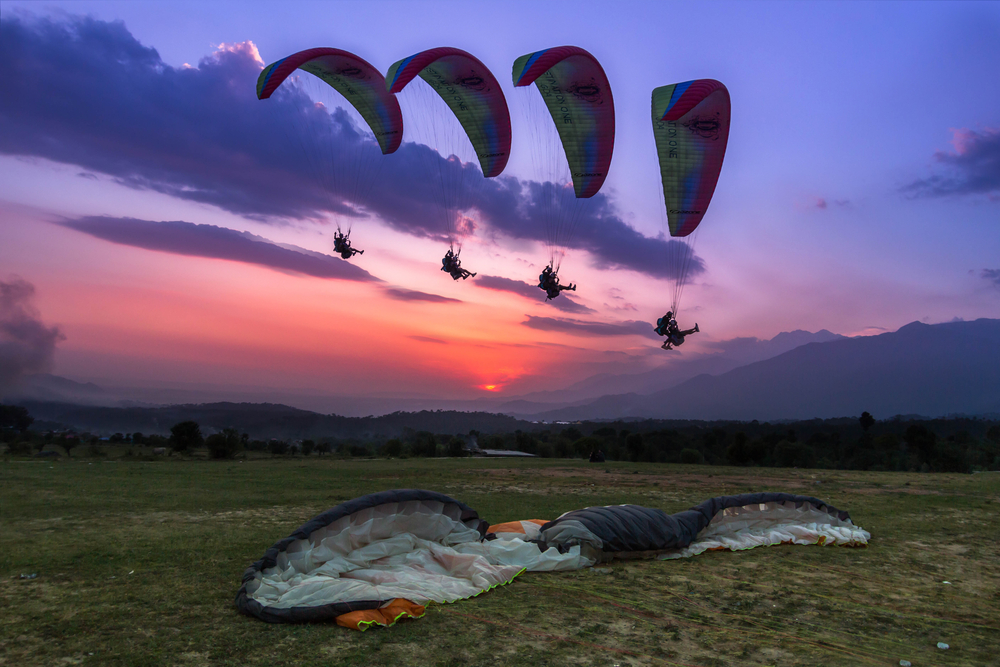 With pristine blue skies and breathtaking views, these two hidden gems of Himachal Pradesh should be the next destination on every adventure lovers list. Being 5000 feet above sea level, the snow-capped mountains offer a pretty sight and views of the beautiful Tibetan temple. It is also home to many Tibetans.
Apart from the serene beauty, Bir offers enthralling activities like camping, trekking, paragliding and mountain biking that is sure to offer the thrill that one has been looking for. Not just the adventure sports, there are many leisure activities like shopping or visiting the Tibetan monasteries that one can indulge in. One can also explore the Tibetan cafes that offer mouthwatering traditional delicacies.
The Himalayan film school is a must visit and one can spend a few hours there. The best time to visit this magnificent land is the summer months between April to June. It is the time when paragliders from all over the world visit since that is the perfect time and weather for paragliding. There are plenty of homestays and hotels that offer rooms at affordable prices. For the ones who are interested in trekking during the winters, the months between December to March are perfect when the temperature drops below zero and there is snowfall. But one must be prepared since it is risky. It is always better to be part of a professional trekking group who know their way around the hilly areas.
What More to Explore around Bir Billing
If one is looking at exploring the raw beauty of nature without any disturbances, then camping is a divine way to do it. It is an experience of a lifetime. The colourful markets of Bir offer a variety of things from clothes to handicrafts with a traditional Tibetan touch and one can never return empty-handed from there without being fascinated by the goods that they have on sale there. It is the perfect time to put one's bargain skills to the test.
Aside from paragliding, hand gliding is one of the most popular sports in Bir but requires intensive training and lessons hence one must train for at least 2 months before taking it up. A trip to the hills is never complete without a ride on a toy train. The toy train that starts from Joginder Nagar covers a distance of 160 km and 10 stations with views that you'll forever remember. If one is looking for peace amidst all the adventure and hustle-bustle, a walk along the Bir River is the perfect way to escape and find tranquillity.
The crystal clear water and the soft sound of the wind is enough to refresh anyone's mind. For the one's looking to connect with their spiritual side, AryaMarga, a yoga retreat has many programmes designed specifically to channelize energies and also commemorates the basic principles on which yoga was founded.
The Deer park institute has a variety of programmes ranging from yoga, meditation, philosophy and Buddhism. This place is a must-visit for people looking at widening their knowledge. A visit to the Chokling monastery is bound to leave one mesmerized with its colourful flags fluttering in the sky and the serene calm interiors. The temple has many sculptures and stories about many Tibetan monks.
This small quaint village situated in the lap of hills is a perfect escape for anyone looking at getting away from the chaos of city life. With so many things to do and so many activities, it can be the perfect vacation if one is looking at trying something apart from the usual. The calmness of the hills, the feeling of soft cool breeze touching the face and the overall vibe of the place is something one mustn't miss. Bir has a little something for everyone ranging from adventure sports, street shopping, monasteries and much more. If visiting a hill station is on one's list, then Bir Billing is a place that one must definitely visit for its uniqueness and beauty. Happy Travelling!  
You may also like to read: The mini-Switzerland of India