Among the ravishing landscapes and attractions that the region of Rajasthan, Hindi for "Land of Kings", has to offer, we find the remarkable Mount Abu. Lakes, temples, forts and so many other thrilling places combined in a single mountain… if you have not searched for pictures of this paradisiac destination yet, what are you waiting for? You can trust locals and tourists when they say you will not find anything of the sort elsewhere, so stop looking and start booking! This is your next vacation alert, do not miss it!
The Neemrana Fort Palace, the Bridal Path, the Nakki Lake, the Dilwara Jain Temples, and the Wildlife Sanctuary. There are just too many things to do in Mount Abu, Rajasthan. Probably you have heard about the numerous activities to enjoy and the mesmerizing places to visit in this plateau that stretches for roughly 200 km2, but before rushing into all the exciting experiences that you will bring home with you after spending some days in this fascinating mountain in Western India, you might want to take a look at its history: soon you will find out it is just as cool as the place itself!
History of Mount Abu
Although "Arbudaanchal" is the ancient name given to Mount Abu, the region has often been referred to as "Arbudaranya" in the encyclopaedic compilations of popular legends, lore and parables of Hindu literature known as Puranas.
From summer destination for Rajput kings to the headquarter for residents of Rajasthan after being rented by the British government from the then Maharaja of Sirohi, Mount Abu, short for Arbudaranya, has witnessed the rich historic evolution of the State of Rajasthan.
It is believed that the 330 million gods and goddesses of Hinduism used to visit Mount Abu, conferring it a strong religious relevance. Also aligned with this anecdote, some legends suggest that the great saint Vasishta carried out worship to protect the Earth from demons at this very mountain that used to serve as his abode.
In a more recent chapter of history its astonishing scenery and gentle weather make Mount Abu stand out from the desertic region surrounding it to the eyes of visitors and residents of Rajasthan. Nevertheless, it had remained fairly untouched by foreign rulers due to the intricated topography.
Culture of Mount Abu
Mount Abu accounts for a plentiful religious and historic background that has enriched its well-preserved culture. If you visit Mount Abu, you will be able to admire their attractive Chaniya Cholis and Lahariyas, part of the colourful traditional attire that characterizes the region. If culinary tourism rings the bells of joy for you, do not miss their spicy curries and corn chapattis, as this will only enhance your experience. Keep in mind that tourism is the motor of the regional economy, so the locals that will receive and guide you through your trip will surely know what they are doing.
Tourist places in Mount Abu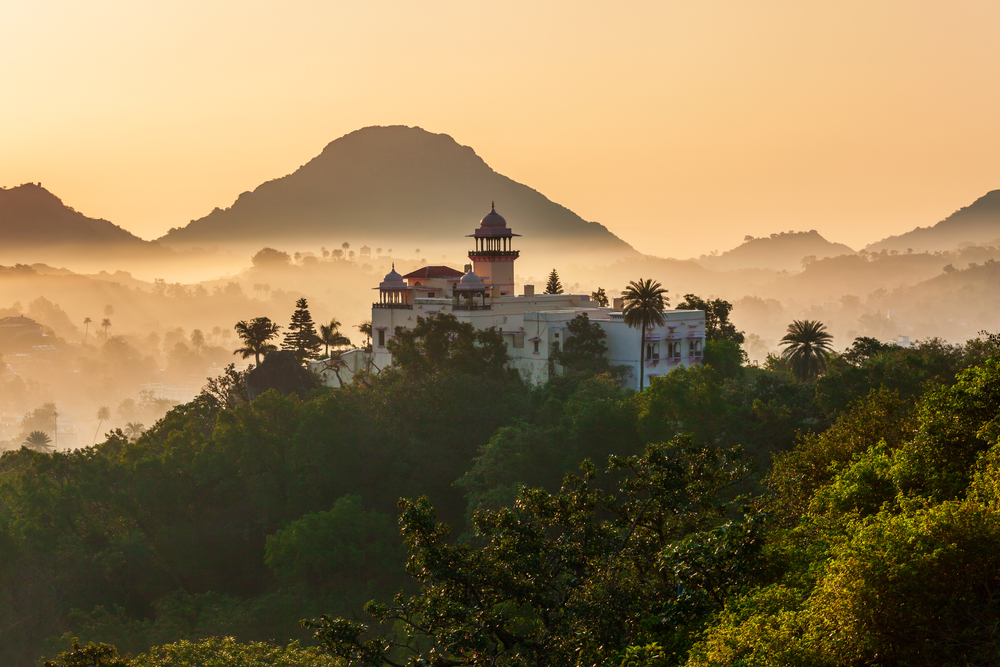 Some of the most famous tourist places in Mount Abu have been mentioned in the previous sections, but as it was stated, there are just too many activities to live and attractions to visit and the plateau is guaranteed to exceed your expectations.
Dilwara Jain Temples: The history, the artwork, the views. What is not to be said about the Dilwara Jain Temples? Known across different geographies, the marble stone carvings to be found in these wonderful architectural pieces will give you something to talk about for years.
Neemrana Fort Palace: Luxury stays are also possible at Mount Abu. This beautiful fort built in the XV century will make you feel like part of the royalty. The cultural events and the mesmerizing sunsets might be the first things that will jump to your mind when thinking of the amazing experience lived at this place.
Nakki Lake: This man made lake is definitely one of the most visited attractions in Mount Abu. Let yourself get carried away by the charm of this water body that is also sacred for the Garacia tribe.
Guru Shikhar: The highest peak in Rajasthan is not just any place to visit in the region. With a height of 1,722 meters above sea level, this is the best location to have an amazing view of Mount Abu. Only 15km are between Guru Shikhar and Mount Abu, so do not hesitate to add this to the list of places to visit when in Rajasthan.
How to reach Mount Abu
Whether you come from across the ocean or from a nearby Indian state, reaching Mount Abu will not be an issue if you take a few minutes to browse the available options. Bus operators like RSRTC and GSRTC run several day-time and night-time buses to Mount Abu. To make your life easier, you will find below a list of alternatives to reach Mount Abu departing from different regions:
Udaipur to Mount Abu: In approximately three to three and a half hours you can reach Mount Abu by bus departing from Udaipur. If you are organizing your trip trying to stick to a tight budget, these tariffs ranging between Rs. 330 and Rs. 360 are a great option for you! Search no more and visit the redBus website for more details on your bus tickets.
Jaipur to Mount Abu: Maybe 10 hours sound like a long journey, and there is no point in denying it, but what can be considered as "too long" for a dreamed vacation in a paradisiac destination? Yes, you are right, only a great place is worth this time sitting on a bus. The good news is that "great" is only short for the experiences that you can live and share in Mount Abu. Whether you come with your family, friends or significant other, this trip will change your perspective on Rajasthan and the amazing attractions it has to offer. Visit redBus' website and book your ticket to travel from Jaipur to Mount Abu by bus for Rs. 500 to Rs. 850. Great price, great destination, what else could you ask for? It is not for nothing that currently 4 different bus companies operate this route.
Jodhpur to Mount Abu: If you are planning to start your trip from Jodhpur, booking your bus ticket on redBus' platform is the obvious next step to take. Do not waste another second and visit their website to find a broad variety of bus tickets at excellent fares. For about Rs. 300 you can embark on this promising trip, currently offered by the operator Rajasthan State Road Transport Corporation, and in roughly 7 hours and 20 minutes you will reach your dream destination. You will not find these great fares anywhere else, so do not hesitate and book your bus ticket from Jodhpur to Mount Abu today!
Ambaji to Mount Abu: If you are in Ambaji looking for a short trip to beautiful movie-like landscapes rich in culture and history, "Mount Abu" is exactly what you should be typing in your browser. redBus helps you through the process of online booking and in just a few clicks you will be able to add to your agenda this magnificent trip that will take you less than 1 hour, with tickets that you can purchase for a competitive price of Rs. 600 to Rs. 800. The sooner you book your ticket, the higher are the odds of getting the best deals, so less looking and more booking! You will not regret it!
Finally, if you want a little sneak peek of the fabulous destination that is soon to be crossed off your bucket list, type "Mount Abu" in your preferred browser and let the beauty and charm of this breath-taking place enchant you all the way to your next getaway.
You may like to read: Ayodhya Trip – All You Need to Know