Independence Day is a national holiday in India, and you should take advantage of this free time to explore the county and immerse yourself in the spirit of patriotism. There are many places that you can visit on Independence Day. Each state has a few heritage spots that are decorated for the day. Many cultural programs and parades are held as well. 
If you have Independence Day travel plans, take a bus to visit the heritage sites in your city. You can also visit locations in different cities to enjoy all the activities on this day. There are many buses available on redBus and you can pre-book tickets if your travel plans are made in advance.
Read on to find out which places you should visit to experience enthusiastic Independence Day celebrations in India.
Independence Day Celebrations
The best way to learn about Independence Day celebrations is by participating. Visit locations around your city or state that capture the essence of India's struggle for freedom. These locations are also the sites of celebration post-independence and have a ton of history that you can learn.
Book a bus from the redBus site and go on a day's trip to any of the sites given below to fully experience the Independence Day activities in India.
The Red Fort, Delhi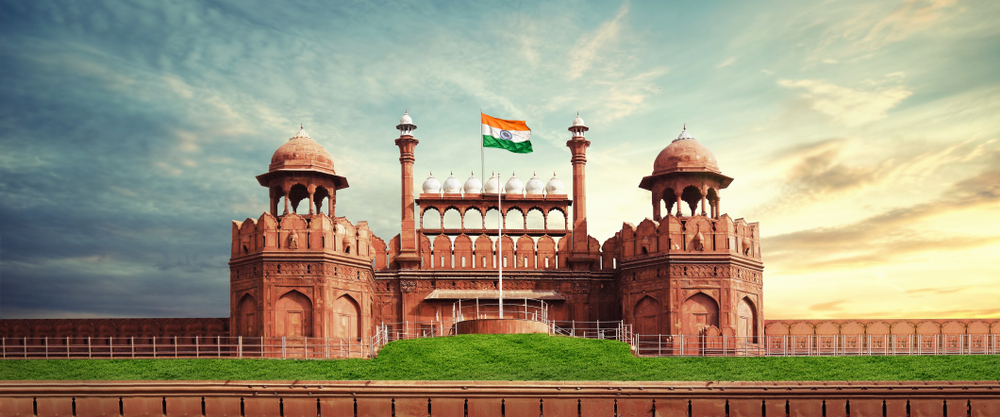 Red Fort in Delhi is a World Heritage Site and every year on August 15, it is where the Prime Minister hoists the national flag. Constructed in 1639, under the reign of the Mughal Emperor Shah Jahan, the Red Fort is the primary site of Swatantrata Diwas celebrations in Delhi. A light and sound show is also organised at the fort that showcases the history of the country.
Independence Day Fair, Delhi
The Independence Day Fair happens across Delhi. While it starts during the week before August 15, with people displaying tricolour flags, shops selling special sweets and merchandise and people greeting each other, the actual activities start right after the flag hoisting ceremony at Red Fort. An Independence Day trip to Delhi will be incomplete without seeing the parades, army march pasts, cultural events and the infamous kite flying competition. The events also include a programme that features all art forms from different states across India.
Nehru Memorial Museum, Library and Auditorium, Delhi
After experiencing the crowds and festivities, you can visit the Nehru Memorial Museum, Library and Auditorium in New Delhi. It is easily accessible via bus and you can choose a drop-off location nearby when you buy your ticket from redBus. The museum is a great place to learn about Independence Day and the history associated with it.
Gandhi Smriti, Delhi
Include a visit to the Gandhi Smriti in your Independence Day trip itinerary. The building served as Mahatma Gandhi's home in the city. It is also where he was assassinated. Following his death, the building was turned into an interactive museum and the International Centre of Gandhian Studies and Research. Visit the beautiful gardens, museum exhibits and see the eternal flame during your time at the Gandhi Smriti.
Patel Stadium, Rajasthan
The majority of Independence Day celebrations in Rajasthan happen at the Patel Stadium in Ajmer. There are many RSRTC buses available on redBus that travel from different cities around Rajasthan to Ajmer. You can reach the Patel Stadium in time to watch the flag hoisting by the Chief Minister and the cultural performances that follow. 
Jaisalmer War Museum, Rajasthan
If you are in Rajasthan, especially in Jaisalmer then take an RSRTC bus to visit the Jaisalmer War Museum on August 15. The museum is near the Jaisalmer Border that separates India from Pakistan. You can also visit the Indira Gandhi Canal and the border posts of Longewala and Tanot. 
Gateway of India, Maharashtra
The Gateway of India in Mumbai lights up every Independence Day in tricolour. Take a luxury MSRTC bus and visit this monument in the city. You can easily pre-book your seat from redBus. The Gateway of India was built in commemoration of the royal visit by King-Emperor George V and Queen-Empress Mary in 1911. It later became a site of Independence Day celebrations and a light and sound show is held every year that tells the history of Mumbai and India's Independence through holograms. 
Railway Headquarters, Maharashtra
The national flag is hoisted in each of the headquarters of the Maharashtra railways. You can travel on any MSRTC bus and visit the Central Railway, Konkan Railway and Western Railway headquarters for the ceremonies. Many cultural performances take place on this day and you can stay to watch, enjoy and learn from them. 
Jhansi Fort, Uttar Pradesh
The Jhansi Fort in Jhokan Bagh, Uttar Pradesh is a site that you must visit on Independence Day. If you are a resident of Uttar Pradesh or are visiting the state, book a seat on a UPSRTC bus that is available on redBus and take a trip to Jhansi. The fortress is significant as it was home to Lakshmi Bai, the queen who fought in the First War of Independence, in 1857. 
Chandra Shekhar Azad Park, Uttar Pradesh
The Chandra Shekhar Azad Park in Allahabad was known as the Company Garden or Alfred Park before Independence. Chandra Sekhar Azad was cornered in this park during the freedom movement and Azad, who had vowed to never be captured by the British, shot himself. To commemorate Azad, the park was renamed after Independence. Therefore, it is an important site that you must visit when in Uttar Pradesh, especially on August 15. You can reach the park from any city in Uttar Pradesh via UPSRTC bus. Book your ticket on redBus if you are planning your trip ahead of schedule. 
There is no better way to celebrate Swatantrata Diwas and honour those who sacrificed their lives for the country's freedom, than by visiting the locations that hold great significance. Every state in the country has these heritage sites that are easily accessible via bus. So choose a convenient bus from the redBus site and plan a trip.
Plan your Independence Day travel well before time. You need to do this because this is the time when many people plan trips to visit areas of interest around the country. If you pre-book your bus tickets on the redBus site, you will not only get the best seats but also buses at a convenient time. You can, therefore, spend Independence Day visiting heritage sites and learning about the country's struggle for independence. 
You may like to read: Mount Abu- Discover the Green Side of Rajasthan