An old city designed by the French with broad avenues bordered with beautiful bougainvillea, and the colourful buildings make up the trademark identity of Pondicherry. This relatively affordable city is a perfect getaway for backpacking with plenty of options for accommodation, interesting places, and charming beaches to take some away from our busy lives. I just took this opportunity a couple of years back to visit some of the best visiting places in Pondicherry. This Pondicherry backpacking was unexpectedly fun and it also had a few memorable moments to cherish. So, let me tell you a little more about this city and its prospects for a planned or spontaneous trip.
Unique places to visit in Pondicherry
The first thing that comes to our mind about Pondy is the French Colony with its old-fashioned architecture and colourful exteriors. There was a lot to cover in this colony from the museum, cathedral, beaches, etc. There were several interesting places to visit in Pondicherry but a few of them made their mark and the experiences there made them unique.
Promenade beach
Let's start with the Promenade Beach which is the must-visit place in Pondicherry. It is a lengthy beach running for a distance of 1.2 km with several monuments on its sides. The beach road will be closed in the evening to allow the visitors to take a stroll and enjoy the evening. It is this beach that houses the third tallest statue of Mahatma Gandhi.
There also are the French War Memorial, the Dupleix park and statue, several cafes and restaurants along the beach etc. One of the never-miss places here is the Le Cafe where you can enjoy a cup of Cappuccino while looking out at the Bay of Bengal in the evening.
Aurobindo Ashram
A NEVER MISS during Pondicherry backpacking, this ashram was made in 1926 by Sri Aurobindo Ghosh, the famous poet, spiritualist, and yogi. This place has a spiritual vibe to it and we simply visited it as it was on our list. Once inside the premises, it is entirely different from what was expected. I could feel a peculiar calmness there. Make sure to spend some time to know this better. There is also a bookstall from where you can find some interesting literary works by and about Sri Aurobindo and others. 
Pondicherry Museum
The museum was a surprise as there is a lot to learn from those artefacts there. It doesn't take much time to cover the museum so do not skip this. It is really enlightening! The museum houses several bronze statues and other artefacts from the Pallava and Chola dynasties. Seeing those items took me to another mesmerizing world.
Immaculate Conception Cathedral
The oldest cathedral in Pondicherry is beautiful and inviting. It stands tall as a reminder of Portuguese architecture and is one of their remaining buildings. The interior of the church depicts the story of Jesus on its walls and pillars.
Kallialay Surf school in Serenity Beach
Though I don't fancy any surfing on the waves, I was curious enough to see how it is done and taught. So I had the opportunity to witness the training sessions. Those who are interested in learning can join the classes and can hire surfboards to try their luck.
Bharati Government Park
The French Colony is best enjoyed by walking through the streets. One of the best places to take some rest is the Government Park that has plenty of shade to offer. There is also the big white monument in honour of the woman who gave her home away to build a water reservoir for all.
Raj Nivas
The governor's residence is right across the park. We didn't get to go inside but made sure to take a few snaps.
Goubert Market
This is the best place for some shopping in Pondicherry. It is situated at the end of Promenade Beach road. It sells everything from handicrafts to food, jewellery, apparel, etc. The market is open for all and there is no entry fee.
Colourful buildings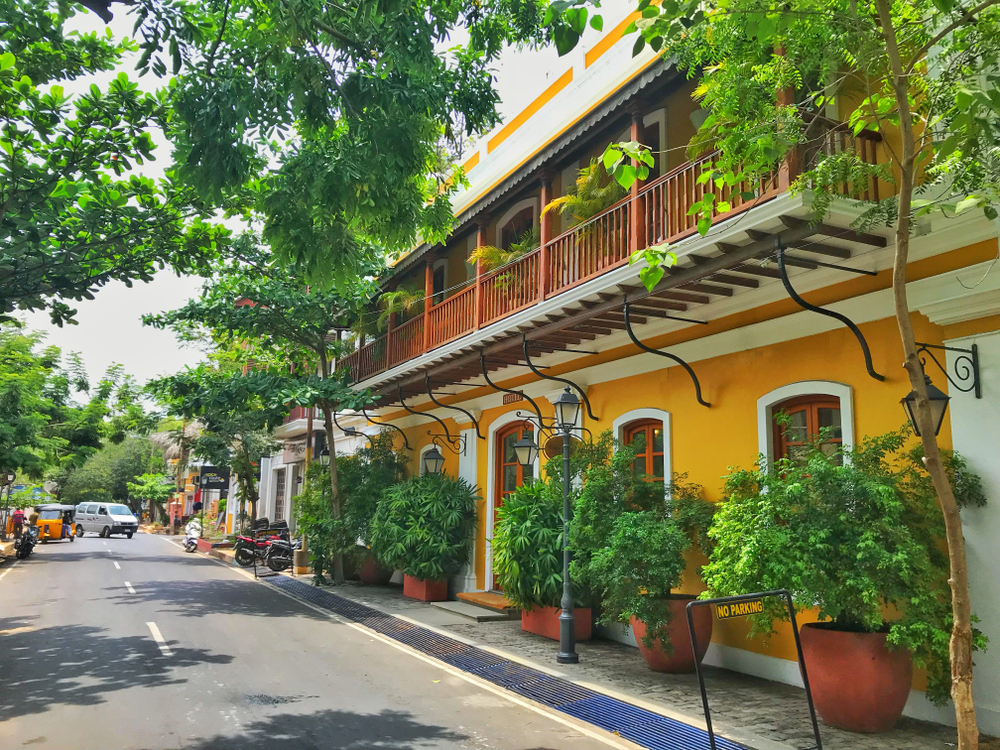 It is a given, isn't it? Anywhere we walked around, we could find one or the other yellow-painted building and some of them were familiar from the various movies. Never miss an opportunity there to get some Insta pic to show off.
Best options for accommodation
Hostels in Pondicherry are really cheap and the best option for backpackers. We stayed in one of the hostels there. Though the rooms at the hostel were clean and wonderful, we soon moved to a hotel as we wanted to be a bit more comfortable. There are several options with the hotels having 3 to 5 stars.
How to reach Pondicherry
The whole experience of Pondicherry backpacking is best enjoyed when you travel by the PRTC buses. These buses are available from both Chennai and Bangalore. Puducherry Road Transport Corporation bus tickets are easily available online, so we didn't have any trouble getting seats for our ride. The Pondicherry bus station is close to the French Quarters and the Promenade Beach. Most of the tourist places were within close proximity and only Serenity Beach was a little far away. Buses were available to reach there but we took a cab to return. 
The other modes of transportation to Pondicherry are flights and trains. Both the airport and railway station are easily reachable. For travelling within the city, buses, autos, and cabs are the available options.
If you are planning for Pondicherry backpacking, then the one thing that I would like to tell you is that, do not expect anything. It is not a city that could stand up to your high expectations. It is something that is ready to surprise you, so let it do its magic. Just think of visiting a new place and you will be amazed at the beauty around you. The French colony itself is a different world. To top it all, the people there are so warm and welcoming that you would not feel that you are in a new place. 
You may like to read: Discovering Amritsar's Rich Heritage