Mathura and Vrindavan are not new names in the tourism industry. These historically and theologically significant cities have been famous as tourist destinations for decades now. If you are confused about your Mathura Vrindavan Tour, look no further. It all began with Hindu pilgrims attempting to achieve atonement by visiting the birthplace of Lord Krishna in their trip to Vrindavan.
As commercialization and capitalism hit, the tourism industry of India grew and made these not just mythologically important, but also economically stable and archaeologically rich. The monuments, temples, and forts have been renovated and renewed as the Archeological Survey of India has taken responsibility for the maintenance of some.
What To Do on the Mathura-Vrindavan Tour?
There are a hundred places to be and things to do in your Mathura Gokul Vrindavan tour. Here is a carefully curated itinerary making the best out of your trip.
Day 1
Your trip begins from Mathura on the first day as you scout the city for its cultural and religious heritage.
Krishna Janmabhoomi Temple and Complex: This temple is the official highlight of the tour as people opt for a Vrindavan Mathura tour to visit the birthplace of Lord Krishna. There is a massive temple where you can attend a puja and pray. The surrounding complex offers holy memoirs, threads, and more for you to carry back home. 
Mathura Museum: After paying homage to the birthplace of Krishna, you can visit the Mathura Museum which is filled with artefacts and historical assets. 
Kans Qila: Kans Qila is both of historical as well as archaeological importance and an absolute must in the Mathura Gokul Vrindavan tour. The fortified castle is believed to have been built during 5500 BC and is named after Krishna's uncle, Kans. 
Jama Masjid: Built during the reign of Aurangzeb by the then governor Abd-al-nabi Khan, Jama Masjid in Mathura is a 17th century cultural and religious hotspot that is best visited during the afternoon hours for the daily Roza. 
Kusum Sarovar: Kusum Sarovar is the sacred water reservoir located in Govardhan Hills. It is situated between Radha Kund and Manasi Ganga and is an excellent place to end your day trip by witnessing the extraordinary view of the sunset. 
Krishna Nagar Market: After spending the day roaming around the most vibrant and important places in your Mathura Vrindavan tour it is needless to say that you must attend the Krishna Nagar Market for some shopping of local goods, memoirs for friends and family, etc. It is also famous for its exquisite collection of bright glass bangles, jewellery, handicrafts, antiques and woodworks.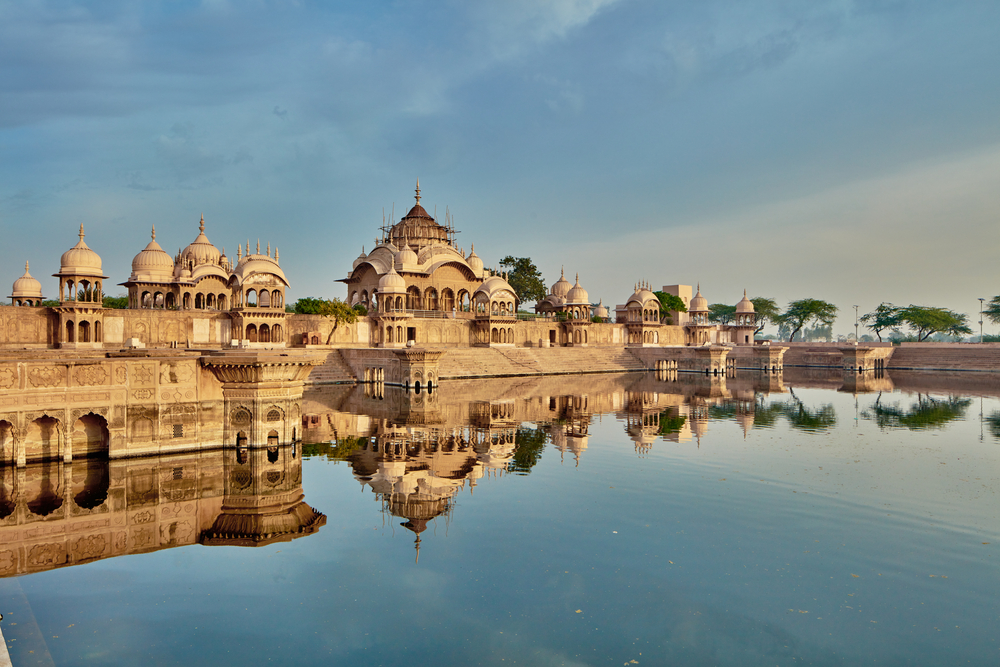 Day 2
The first half of your second day should be spent covering a few must-visit places in Mathura before you travel to Vrindavan later.
Vishram Ghat: You can start the second day of your Vrindavan Mathura tour by visiting Vishram Ghat very early in the morning to witness the mesmerizing sunrise view it offers. You can sit in the quiet ghat and enjoy a cup or two of the sweetened milk tea early stall keepers make.
Barshana Shri Radha Rani Temple: Start your day by visiting the Barshana Shri Radha Rani temple built to celebrate and remember Radha and her life. The temple is famous among pilgrims and tourists alike due to its historical importance of being a temple dedicated solely to Radha.
Elephant Conservation & Care Center: This is India's first and only Elephant Conservation and Care Center. It is a safe haven for the rehabilitation of rescued elephants. The facility offers guided tours to the tourists, and you get to watch the enormous mammals live their daily lives. Old, sick, pregnant, and lost elephants are all brought in here.
Radha Kund and Shyam Kund: Radha Kund and Shyam Kunds are famous water reservoirs that tourists never miss. Legend has it that Radha and Krishna bathed in these water bodies during their time. You can enjoy the scenic beauty as well as the mythological significance of the location.
You can have your lunch and pack your bags to travel to Mathura Vrindavan tour by bus, but not before you go a little farther to Nandgaon. Nandgaon is of utmost mythological importance as it is known to be the home of Lord Krishna when he lived with his foster parents Nanda and Yashoda for a decade. It is a one-hour drive from Mathura and marks the end of your second day.
Day 3
The final day of the trip consists of rivers, monuments, and good food.
Keshi Ghat: If you are on your trip to Vrindavan, you must start the day by watching the sunrise from Keshi Ghat. It is among the top tourist destinations at Vrindavan and you can get a great view of the river Yamuna from the banks. People also take baths in the ghat in order to purify themselves. 
Prem Mandir: Spread across a campus of 55 acres of land, this temple is a massive structure dedicated to both Radha-Krishna and Sita-Ram. It is on the outskirts of Vrindavan and is maintained by an international non-profit named Jagatguru Kripalu Parishat. 
Madan Mohan: With terra cotta exterior and river views, the Madan Mohan temple in Vrindavan ranks high among the most popular tourist spots. It is believed to be built in the 16th century and is among the oldest temples in the city. 
ISKCON Vrindavan: After visiting multiple holy temples, one must stop to visit ISKCON Vrindavan, a true wonder. Iskon also offers accommodation services, which is free to all its members. If you go there within 12 PM to 2 PM, you will be able to avail of their free and delicious lunch. 
Seva Kunj: After roaming the city for the entire day, you can relax at Seva Kunj and watch the sunset from there, as the location promises breathtaking views of the sunset before returning to your home boarding a UPSRTC bus the next day. 
If you want to squeeze in the best parts of the adjoined cities of Vrindavan and Mathura in your three-day trip, there are some things you can't afford to miss. Book your tickets for the Mathura Vrindavan tour by bus because you are all covered on the itinerary. 
You may like to read: Traditional Art Forms of Andhra Pradesh