Lying on the banks of the Krishna River, Vijayawada is a beautiful place that is a perfect weekend getaway from Hyderabad. Whether you want to take a pilgrimage, enjoy seeing beautiful nature or enjoy the perks of a city getaway, this destination is just the right place for you. You can get from Hyderabad to Vijayawada and enjoy the city in just two days. From slow travel to enjoying an adventurous stay, there are many things you can do during your stay in Vijayawada. The bus from Hyderabad to Vijayawada takes about 6 hours 30 minutes and can be found frequently.
How to Travel from Hyderabad to Vijayawada
Vijayawada is accessible easily by road, rail and bus. Based on your budget and travel plans choose a convenient method to travel to Vijayawada. By road, the distance is about 275 km approximately and can be reached in 5 hours 30 minutes or 6 hours.
Bus
From early morning to late night buses from Hyderabad to Vijayawada are found at regular frequencies. You can also book the state-operated APSRTC Hyderabad to Vijayawada buses from redBus to get the bus schedule and pricing in one place. There are also many private buses from Hyderabad to Vijayawada to make your journey smooth and pleasant. The average bus fare from Hyderabad to Vijayawada starts from Rs 372 and can go over Rs 500 based on the amenities.
Car
For a road trip, Hyderabad to Vijayawada is a great way to enjoy some fresh air. You can easily make the trip in 5 hours 30 minutes. You pass through some beautiful scenery and quaint towns to reach your destination.
Train
Vijayawada is a well-known train station that is accessible through all railway networks. Starting at Rs 250 the train prices are the cheapest and can be booked for budget travel. The fares can also shoot up to Rs 600 based on the amenities and train class. The journey takes about 6 hours 30 minutes and you can enjoy the beautiful sights on your way from Hyderabad to Vijayawada.
Flight
It takes about an hour to reach Vijayawada from Hyderabad. This is the fastest route available but also expensive. The average price for a Hyderabad to Vijayawada flight ticket starts from Rs 1667.
Top 5 Places to See in Vijayawada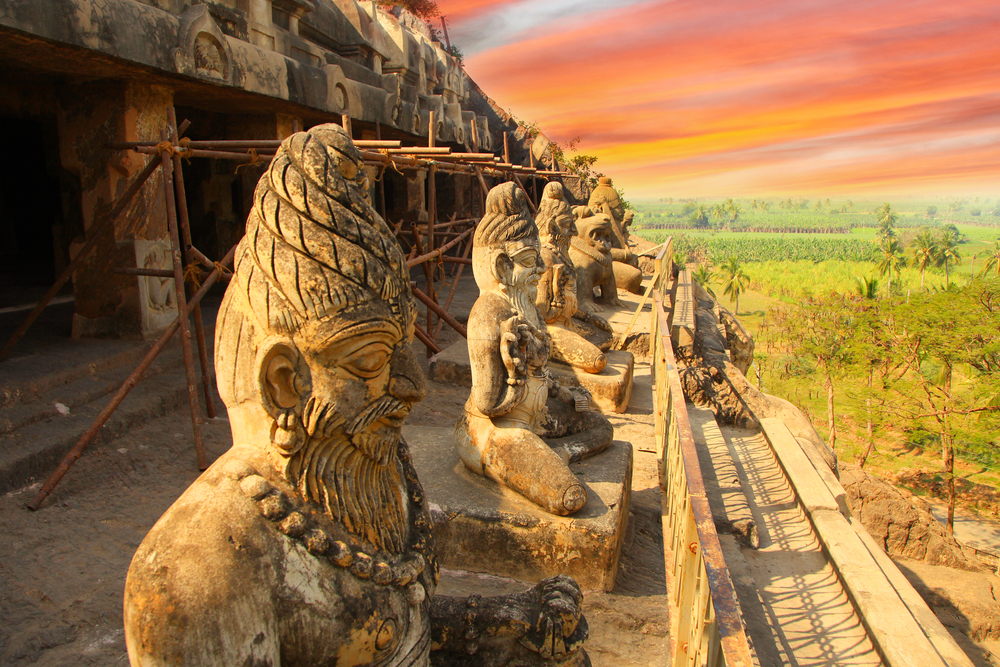 Made of beautiful rock carvings, the Undavalli cave is a rock-cut architectural treat for aficionados. Made up of four floors, many monolith carvings of deities are found in this beautiful historical place.
Sri Durga Malleswara Swamy Varla Devasthanam
This is a famous pilgrim site for the Hindus. The temple architecture is quite a beautiful sight to see. One can spend some quality time taking in some peace and quiet.
By taking a boat ride, one can reach Bhavani island. The place is a famous picnic spot and lures tourists with many water sports around the river and island including zorbing, boating and more. Families, couples and groups frequent this place for a day outing.
This is a famous photo spot that crosses the Krishna River. It is one of the oldest barrages in India and can attract tourists to picnic nearby and spend some time by the river. It is a must-visit place when you travel from Hyderabad to Vijayawada.
Just a town over, Mangalagiri is a beautiful, quaint place that is liberally dispersed with paddy fields, hills and a famous temple seated at the hilltop. If you're looking for some serenity and quiet time away from the hustle and bustle of the city, you should make this a pit stop on your Hyderabad to Vijayawada trip.
There are many other pilgrim sites like Buddhist temples, mosques and Hindu places of worship that one can visit. It also has the statue of Mahatma Gandhi on a hill called the Gandhi hill which can be visited on your trip.
Best Time to Visit Vijayawada
Mid-November to early March is the best time to visit Vijayawada. The temperature is just right. Try to avoid visiting Vijayawada from Hyderabad during the summers as the temperature can get really hot and humid.
What to Shop in Vijayawada
You can find some brilliant sandalwood decor ranging from jewellery boxes to intricately carved cutlery and trays. You can also find sandalwood for medicinal purposes and collect sandalwood-perfumed products on your Hyderabad to Vijayawada trip.
Vijayawada is famous for its Kalamkari collection. Block-printed textiles ranging from animals to vegetable prints can be found in many places. There are many street shops and bazaars that sell this in Vijayawada.
If you're looking for cotton saris, then you must take a look at Mangalagiri sarees that come with big zari prints. They are available in multiple prints, colours and patterns making it the best gift to take for your loved ones and friends.
You can also find leather puppets, wood-carved toys which are a speciality of Vijayawada. These are hand-carved and can be found all over the city. They come in various designs and are painted bright colours for visual appeal.
Dishes to Try in Vijayawada
Vijayawada is famous for spicy, tangy dishes that come in both vegetarian and non-vegetarian varieties. Try the tamarind-soaked dish called Puliohara or enjoy some evening snacks of spicy mirchi bajji and pakodas. You can also treat your taste buds to chicken 65 or spicy Guntur chicken which is another speciality of a city just next to Vijayawada. Killi is a digestif made of betel leaf, spices and sugar.
You can plan a quick getaway from Hyderabad to Vijayawada. redBus has multiple ways you can make your journey to Vijayawada. Book a bus from Hyderabad to Vijayawada or rent a car. Either way, you can enjoy a break from your busy life and take a quick trip to the beautiful city. 
You may like to read: The Unforgettable Golden Triangle Tour