Rajasthan is a popular tourist destination in India, welcoming travellers from the country and abroad. This land is known for its desert, camel rides, mouthwatering food, culture, royal history, forts and monuments, and colourful vibes. If you plan a trip to Rajasthan and search for a good transportation service, then look no further than RSRTC (Rajasthan State Road Transport Corporation). 
RSRTC is a government-owned transport corporation offering transparent and reliant travel services to passengers. RSRTC buses are known for their efficiency and affordability. These buses are punctual, clean, and most of all, frequently available for various travel routes within Rajasthan and outside. One can explore a number of historical places in Rajasthan on RSRTC buses. Some of which are listed below. 
Historical Places in Rajasthan with RSRTC 
Nahargarh Fort
Located in the Pink City of Jaipur, Nahargarh Fort was built by Sawai Madho Singh. The word Nahargarh means Abode of Tigers. The fort was one of three defence pillars of Jaipur, along with Jaigarh and Amer Fort. The fort has a Zoo and Biological Park with Bengal Tigers and Asiatic Lions. The Madhavendera Palace inside the fort has a king suite and nine concubines suites with beautiful wall paintings.
Monsoon Palace
Built on the top of a hill, Monsoon Palace displays the splendid architecture of the Rajput dynasty. The palace is decorated with high towers, balconies, turrets, and pillars. This palace offers some serene views, and the sunset from its balconies is a perfect picture-click moment. Monsoon Palace is also known as Sajjangarh Palace, named after its maker Maharana Sajjan Singh.
Bhangarh Fort
Bhangarh Fort is one of the most haunted places in the country. There said to occur supernatural happenings that scare many people. The palace is open only from 6 AM to 6 PM, as it is a popular belief that ghosts hang out here at night. If you are a thrill seeker and brave-hearted, a visit to Bhangarh Fort is a must for you.
Amer Fort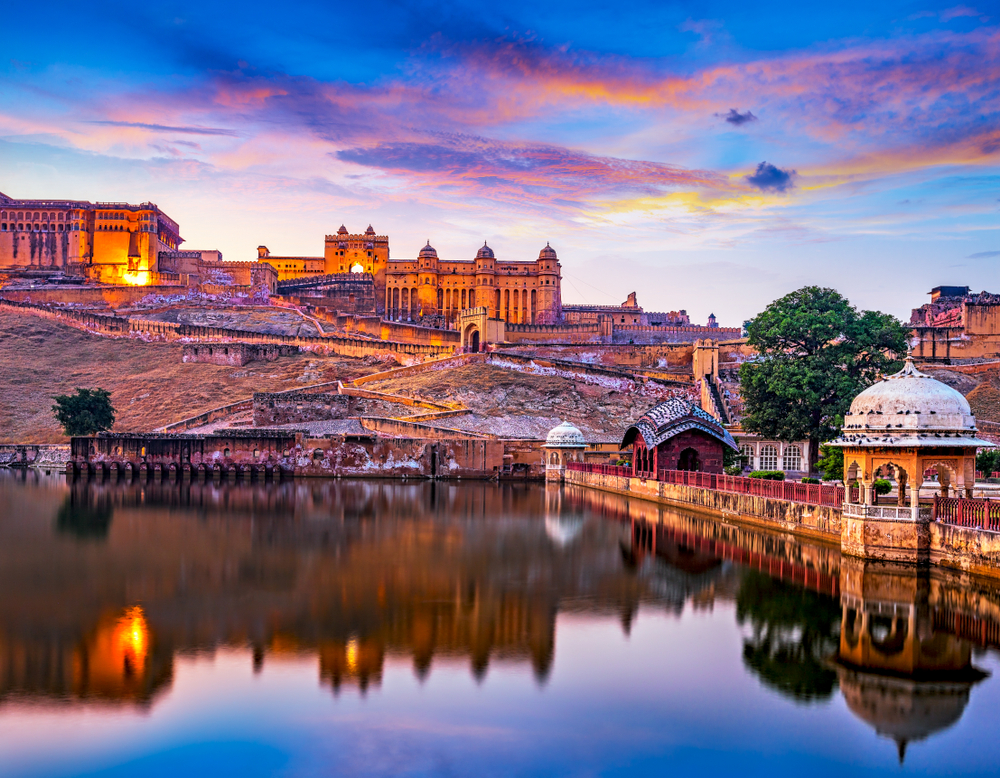 Amer Fort is a UNESCO world heritage site along with five more forts of Rajasthan. It is situated on the Cheel Ka Teela and is one of the exemplary monuments of Rajasthan. Made with pink and yellow sandstone, Amer Fort is a majesty beauty that attracts more than five thousand visitors every day to its complex. Amer Fort has large railings and elaborate gateways. One can do elephant rides here and enjoy the sound and light show.
Umaid Bhawan Palace
Built in 1943, Umaid Bhawan Palace is a museum and heritage hotel located in Jodhpur, Rajasthan. It is also known as Chittar Palace and is one of the must-visit historical places in Rajasthan for families, couples, and friends. Umaid Bhawan Palace has all kinds of luxury to give its guest a premium opulent experience.
Patwon ki Haveli
Patwon ki Haveli, also known as the Mansion of Brocade Merchant, is located in the golden city of Jaisalmer. It was built in 1805 by Guman Chand Patwa. Patwon ki Haveli is the first and largest haveli of Jaisalmer, which took almost 55 years to construct. The haveli features creative mirror work, intricate paintings, stunning architecture, beautiful carvings, and more.
Hawa Mahal
One of the popular historical places in Rajasthan, Hawa Mahal is made up of red and pink sandstone, contributing to the name of the pink city of Jaipur. The palace is elaborately designed by Lal Chand Ustad Ji and mesmerizes the on-lookers with its splendid architecture. There are five floors in the Mahal and 953 Jharokhas (structures made to allow wind to pass). It is surrounded by traditional markets where one can shop for souvenirs. 
Jaswant Thada
Jaswant Thada is a beautiful monument of Rajasthan and is known as the Taj Mahal of Mewar. It was built in 1899 by Maharaja Sardar Singh in memory of his father. Jaswant Thada is made with interestingly carved marbles and resembles the shape of a temple. There are a lot of cultural activities that take place here, including Rajasthani folk dance and music.
Karni Mata Temple
Karni Mata Temple is located in Deshnoke and is visited by thousands of people every day. The temple houses over 20,000 black rats. For this reason, it is also called the Rat Temple. These rats are considered sacred, and people come here to pay tribute and pray to these rats. The temple is made up of marble and features silver doors for entrance.
Chittorgarh Fort
The Chittorgarh Fort is one of the most popular tourist destinations of Rajasthan. The fort is spread across 700 acres of land and covers all the major attractions of Chittorgarh. It had 84 water bodies inside it, out of which only 22 are existent today. Several sites include Rana Kumbha Palace, Vijay Stambh, and Meera Mandir that one should definitely visit on their trip to Rajasthan.
Apart from these, RSRTC buses also run bus tours for the main sights of Mount Abu. The tour includes a visit to Guru Shikhar, Brahma Kumari's Peach Hall, Achalgarh, Adhar Devi, Delwara Temple, and Honeymoon Point.
redBus RSRTC Bus Booking
RSRTC buses are a viable option that can take you to countless historical places in Rajasthan. To make things more convenient, you can do Rajasthan roadways booking online on redBus. Just mention your boarding and dropping locations and journey dates and get a large inventory of the best RSRTC buses for your routes. Not only this, but you can also get all the information about RSRTC ticket booking, bus schedule, fare, reviews, etc., on the redBus website and app with a single click. 
On bus booking with redBus, passengers instantly get an e-ticket or m-ticket for their route on email or SMS. They can use this electronic ticket to board the bus directly. Moreover, redBus offers various discounts on RSRTC ticket booking, which are not available physically on bus station booking.
So book your tickets now to enjoy a memorable, lavish, spooky, and fun trip to Rajasthan! 
You may also like to read: RSRTC Super Luxury Buses